Financial Advice for Medical Professionals
As a medical professional, you naturally spend more of your time thinking about others than yourself. But what about your own needs, including your financial health? Our Financial Advice for Medical Professionals Guide goes into detail about why you should speak with a financial adviser to manage your long-term wealth plans.
Get financial advice
It's all too easy to overlook your finances, especially when you're so busy with your career. However, good financial management will help ensure you're maximising all available opportunities. In addition to being able to weather any storms, financial planning will also stand you in good stead for retirement.
Seeking financial advice is generally recommended as soon as someone becomes a higher-rate taxpayer, which currently stands at £46,350 in the UK. This means financial advice could be of benefit to the vast majority of medical professionals.

Whatever stage of your medical career you happen to be at, here is why our financial advisers here at Holborn Assets are well-positioned to give your finances a check-up.
Why do medical professionals need financial advice?
Medical professionals by their very nature are there to give their patients answers. But just because you're an expert in medicine, dentistry or psychiatry, it doesn't mean you're an expert in finance.
In fact, years spent in medical school will not teach you about money. Yet, having a secure income is essential to being able to continue in your career and achieve a comfortable lifestyle. It's also crucial to what happens after you retire, among many other aspects of your life.
As higher earners, medical professionals are often subject to steeper levels of tax. There can be various other complexities relating to private practice or NHS income which may also need expert input. Financial advisers are best placed to help you navigate such challenges, in addition to any personal financial goals you may have.
Given the tremendous effort it takes to qualify in your chosen discipline, it's essential that this dedication and commitment are fairly reflected in your finances. This doesn't just include the here and now, but throughout your retirement too.
The good news is that getting your financial health in order is a lot more straightforward than completing medical school! Though you do need to be aware the service exists, and of its importance to make that first step.
Holborn Assets provides independent financial advice for doctors and a wide spectrum of other medical professions, meaning you're in the right place for all of the above.
💡 Did you know?: The BMA states that doctors' pay "has reached an astonishing and unjustifiable 30% real decline in take-home pay since 2008/09."
Barriers which prevent doctors and dental professionals from getting ahead financially
The demands of the job mean many medical professionals ignore their own needs. This can also extend to their financial health.

The assumption that being a high earner automatically guarantees financial security or a comfortable retirement.

The concept of financial advice isn't talked about enough within the medical profession.

Not seeking advice from fully qualified, regulated financial advisers who have experience in guiding medical professionals.

Leaving the NHS to go private, or relocating abroad and not seeking advice to guide the transition financially.

Leaving things to chance, hoping any existing pensions or investments will be enough, without an expert actually checking this for you.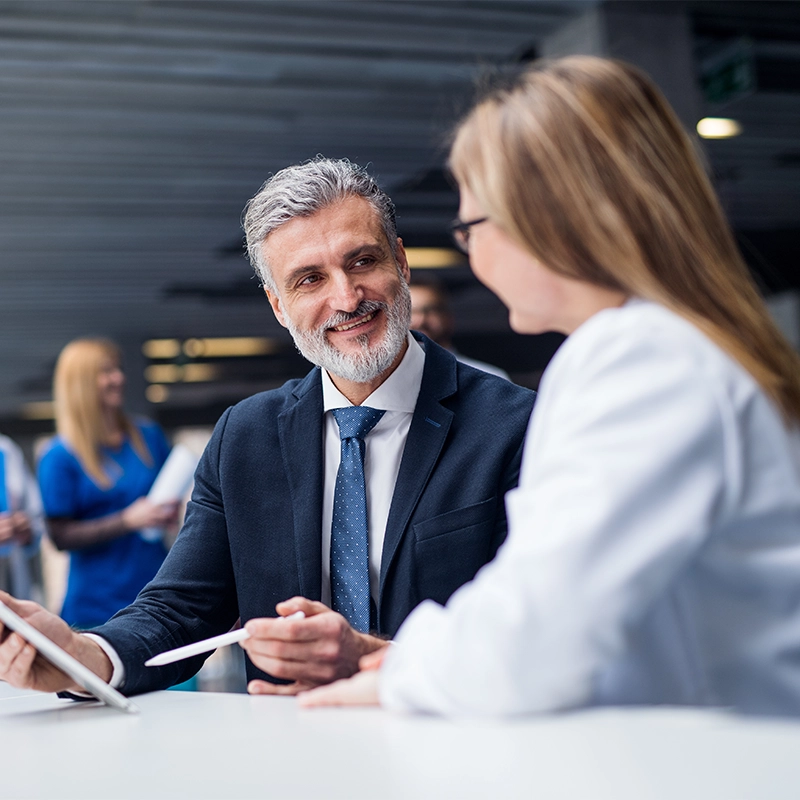 How can our financial advisers improve your financial outlook?
Financial planning can be likened to a medical checkup. If you consider why your patients would require a general MOT, it is to diagnose any potential issues and hopefully nip them in the bud at an early stage. Likewise, to best manage any existing issues through the options you have available for them.
A financial review and any strategies implemented looks to do exactly the same, only for your finances.
Some of the most common requests within the medical community include the following:
Financial advice for cardiologists
Financial advice for dentists
Financial advice for doctors
Financial advice for neurologists
Financial advice for orthodontists
Financial advice for psychiatrists
Financial advice for physicians
Financial advice for surgeons
Our financial advice can be sought at any stage of your medical career, and for any spectrum of medical specialism. That said, the earlier you begin financial planning, the easier it will be to make any future goals a reality.
The first step is to book a personal financial review with one of our advisers.
What financial services may I need as a medical professional?
In some cases, our financial services will overlap with higher earners from all professional backgrounds. Though, there can also be some aspects that are specific to your job within the medical industry.
In general, our financial advisers or wealth managers can provide:
Estate planning
Financial protection
Pension advice
Trusts & gifting advice
Mortgage advice
In short, a financial adviser seeks to ensure that your future financial goals are on track. They will conduct a thorough assessment of your current position and offer expert guidance on where improvements can be made. The products and services can relate to your immediate financial health, as well as your long-term financial security.
Alternatively, for those who have only just entered the medical profession, you may be known as HENRY (high earner not rich yet). For instance, if your salary is not yet providing a comfortable income due to current expenditures, or debts including student loans from medical school. In this case, a financial adviser can also help you on the path to financial freedom.
Book a financial review with Holborn Assets
Expatriate financial advice for medical professionals
As noted above, we provide financial advice to medical professionals who are now working or living outside of the UK.
While we have 18 offices located across the globe, we have a keen specialism in UK expats now living in the UAE, with a dedicated office based in Dubai.
Whether you have set up a private practice in the UAE, or are working for the Ministry of Health and Prevention, we can help you ensure your finances are in the best possible shape.
Some medical professionals also choose to invest or retire in the UAE, making the services of a financial adviser crucial in various different scenarios.
See also: A guide to moving to the UAE from the UK
Holborn Assets – Speak to our medical financial advisers today
Whether you're a GP, surgeon, dentist, psychiatrist or any other medical professional, getting trusted financial advice is always in your best interests.
Holborn Assets is one of the largest worldwide financial advisories with over $3bn currently under management.
Our award-winning financial advisers are ready and waiting, whether your medical practice is based in the UK or overseas.
To book your financial review, or for any questions on financial planning send us a message and our team will be in touch shortly.
You can also keep up to date with our latest financial news and advice on our Instagram, YouTube or LinkedIn channels.