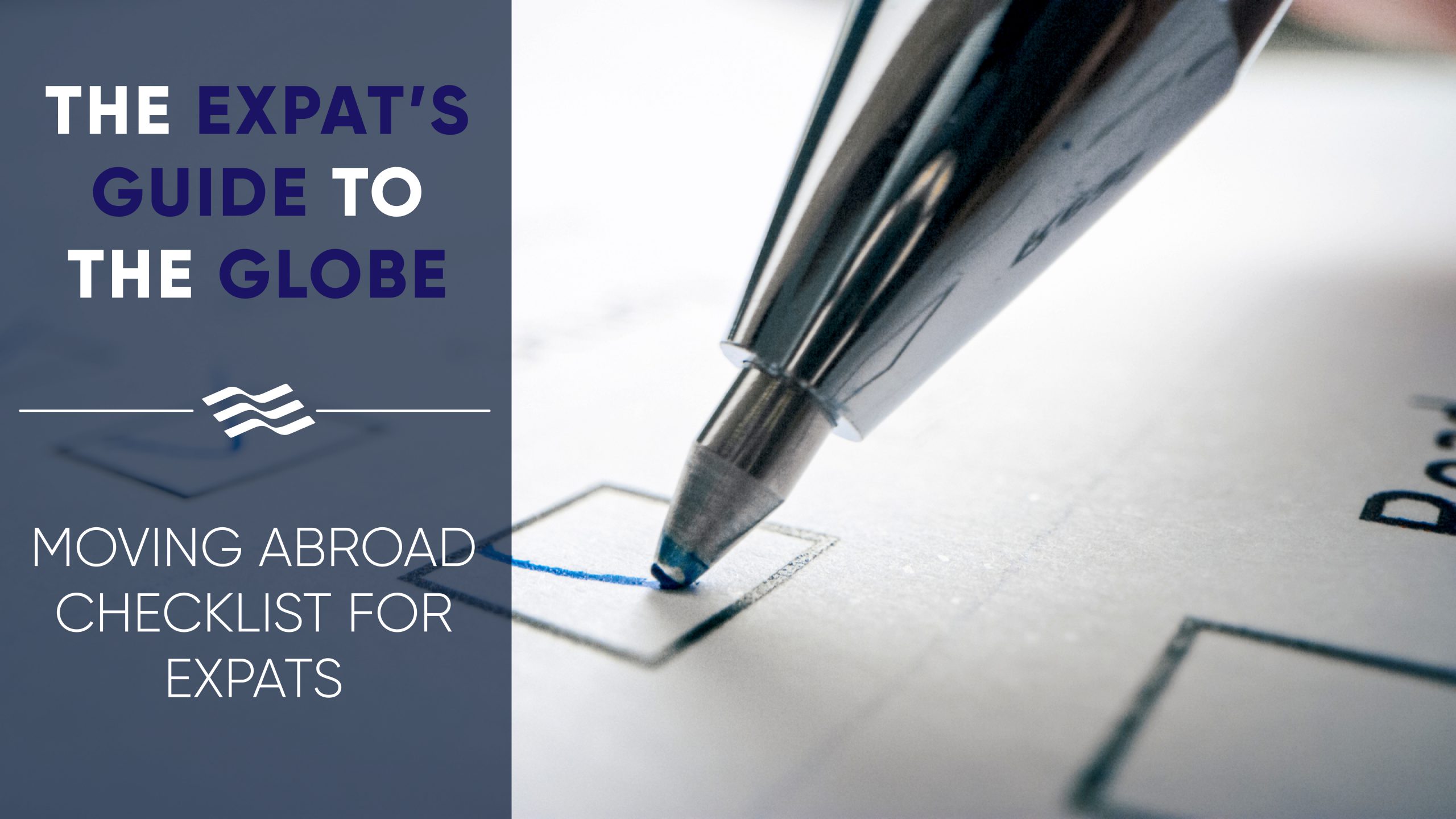 Moving Abroad Checklist for Expats
Posted on: 12th February 2021 in The Expat's Guide to the Globe
The expat lifestyle can be a truly rewarding one. The chance to work and live abroad creates a unique experience and builds memories that last a lifetime.
Of course, leaving the life you know and moving abroad does come with its challenges. Sometimes you need a little advice, which is where our new series comes in. 
The Expats Guide to the Globe is our weekly series, designed to help new and existing expats navigate the challenges associated with the lifestyle. Each week, we will take an in-depth look at a different topic to give you the information you need to make the most of your expat experience.
This week, we take a look at tips for expats moving abroad.
---
There are countless things to consider when moving to a new country. It can be incredibly daunting, especially if this is your first time moving overseas.
Having a moving abroad checklist is a perfect way to keep on top of things and make your expat experience as stress-free as possible.
In this article, we take a look at five things that expats should be thinking about before they head for the sun. 
Moving abroad checklist
When it comes to packing up your life in the UK to head overseas, there is an endless number of things to consider.
Some of the things you need to prepare for your move will depend on several factors, including the location you are moving to and visa requirements. 
Our moving abroad checklist focuses on five essential items that will apply to most people and in most situations.
Research:
A little research can go a long way. You don't need to know everything about the country you are moving to, but having a good idea about some key areas can get you off to a great start.
For example, you may want to find out about living costs in the area. Once you know the cost of rent, utilities and other expenses, you can build a budget to manage your money effectively.
Does the country provide public healthcare for expats? Are there any local activities nearby for when you have some free time? These are all things worth knowing ahead of time.
It would help if you also familiarise yourself with local laws, culture and customs, all of which can be vastly different from those in the UK. 
Taking care of taxes:
Sorting your tax situation should be one of the top items on your moving abroad checklist. If you don't, a hefty tax bill could be heading your way.
The first thing you will need to do is inform HMRC that you are planning to work overseas. Filling out a P85 form ensures that you are taxed appropriately in both the country you are moving to and the UK.
There may be other forms needed depending on your situation. For example, if you pay tax abroad but receive interest from savings in the UK, you will need to complete form R105.
Tax can be a tricky topic, especially for expats. If you are unsure or would like some advice, speaking to a professional is advised.
Insurance:
Most countries around the world have a very different healthcare system to that ok the UK.
Access to public healthcare in expat hotspots around the world can be limited, which is why medical insurance is vital.
Medical insurance can give you peace of mind, knowing that if you fall ill or have an accident, you'll be covered. Hopefully, you will never need it, but don't take the risk.
It's important to make sure you find the right policy for your needs. You don't want to overpay on a policy which provides more cover than you need. At the same time, you don't want to get to the hospital, only to find out that your insurance doesn't cover your treatment.
Speak to one of Holborn's insurance specialists to make sure you get the right policy for you.
Financial planning:
The financial plans you put in place will depend on your situation and requirements.
One pitfall for expats can be transaction fees and currency fluctuations. An offshore bank account can be beneficial, especially if you are paid in a foreign currency. Because these types of accounts can receive different currencies, they can minimise exchange fees.
Having a local bank account is also helpful for day-to-day banking and monthly outgoings such as utility bills.  
Depending on your long-term plans, you may also want to consider the best course of action for your UK pension.
Transferring your UK pension can be financially beneficial. However, speaking to a professional who can advise you based on your circumstances is highly recommended.
Consider your return to the UK:
If you plan on returning to the UK, it's a good idea to have things in place to make your return as smooth as possible.
Depending on how long you have been away, your credit score may have taken a hit, which could make borrowing difficult. For those looking to repatriate, our guide will give you tips to rebuild your credit score.
Returning to the UK may seem like a long way off, but proper planning is essential just like your move abroad.  
Don't delay
Moving to a new country is a huge step. There is so much to think about before you even board the plane. 
With this in mind, don't leave everything to the last minute. The experience will be far less stressful the earlier you start preparing, so don't delay.
With your move overseas taken care of, it's time to consider your financial goals. 
Our award-winning team of experts specialise in financial advice and wealth management for the expat market. Our guide has more information on how to choose a financial adviser.
Alternatively, contact us using the form below to find out how we can help you.