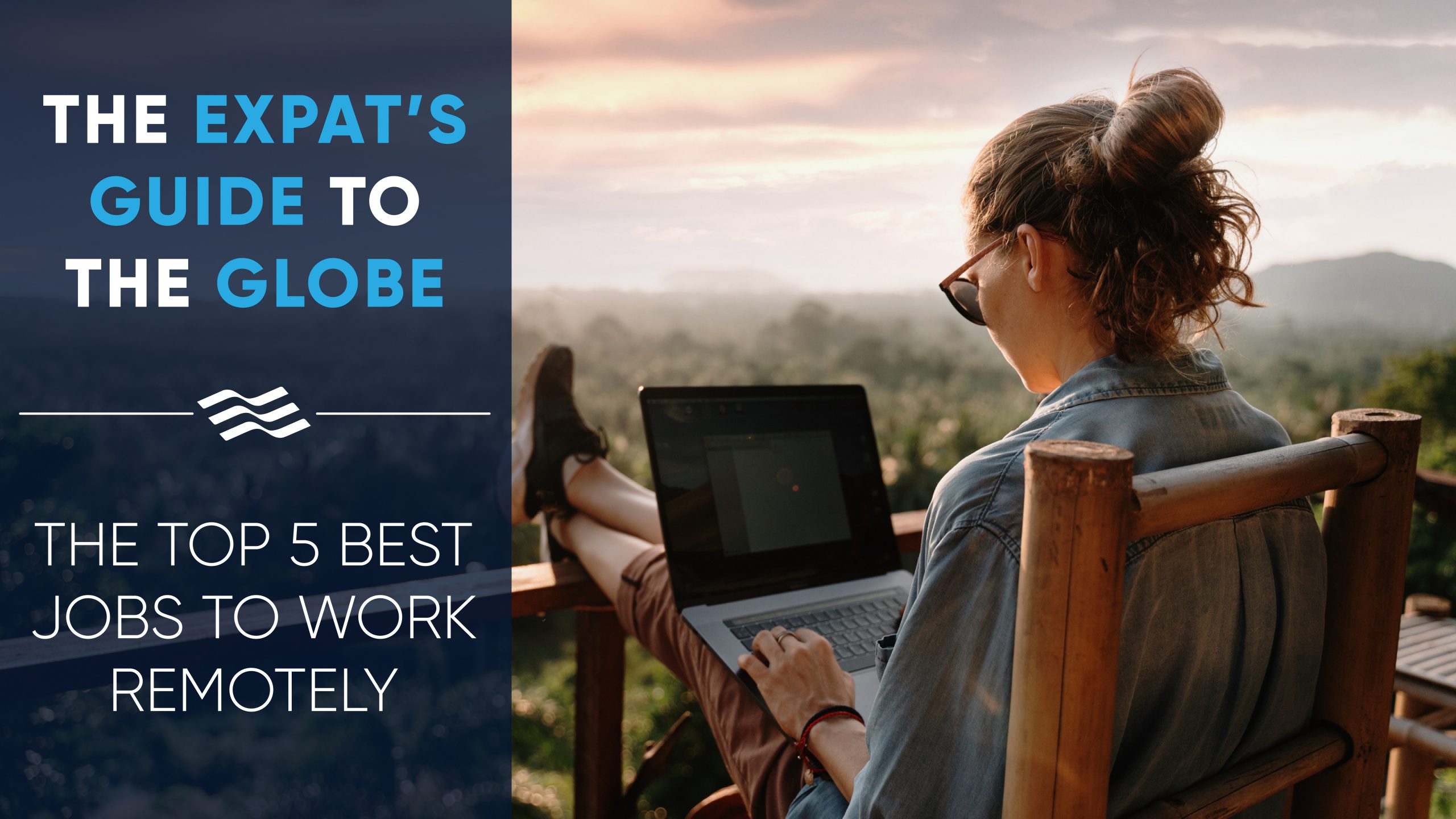 The Top 5 Best Jobs to Work Remotely
Posted on: 26th February 2021 in The Expat's Guide to the Globe
The expat lifestyle can be a truly rewarding one. The chance to work and live abroad creates a unique experience and builds memories that last a lifetime.
Of course, leaving the life you know and moving abroad does come with its challenges. Sometimes you need a little advice, which is where our new series comes in. 
The Expats Guide to the Globe is our weekly series, designed to help new and existing expats navigate the challenges associated with the lifestyle. Each week, we will take an in-depth look at a different topic to give you the information you need to make the most of your expat experience.
This week, we take a look at the best jobs to work remotely.
---
Most of us have grown accustomed to working from home.
Services such as Zoom and Skype have made remote working more accessible than ever before. No longer is your office confined to a single location.
Employers and employees alike seem to be benefitting from remote working. Over 50% of workers said they are more productive while working from home.
In this article, we look at the best jobs to work remotely for those considering moving their career abroad.
Working remotely
Whether you're considering a career change or want to take your talents abroad, here are some of the best remote jobs.
Freelance writer
When you hear the term 'expat' and 'writer', you undoubtedly think of travel blogging.
Travel blogging has been a natural means for expats and digital nomads to see the world and make some money. However, remote writing opportunities go beyond blogging. 
From technical copywriting to SEO content, companies around the world are always looking for talented writers. 
Top tip:
In a world where working from home is the new norm, permanent remote writing roles are more common than before. 
Still, a lot of writing roles are on a freelance basis – this means there is a lot of competition. Just look at any of the popular freelance websites. You'll find an endless list of writers, so it's important to stand out from the crowd.
Having a portfolio of work is a great way to land freelance roles. Any connections or contacts you have will also be beneficial to help build up a client base.
Editor/Designer
Practically every company has a website and is keen on building its digital presence. 
A user-friendly website, sleek logo and polished video are just some of the ways companies showcase what they are all about online. As the world moves more towards digital, more opportunities than ever are presenting themselves for creative professionals.
Whether it's UX and UI design, graphic design work, or digital animation, you can find a whole host of remote working roles in the design and editing space.
Just like writing roles, you can easily do these jobs from home. Design work can either be on a full-time basis or freelance.
Top tip:
Like we mentioned in our top tip for remote writing roles, a track record of your work is essential.
Having education credentials is fantastic, but a solid portfolio demonstrating what you are capable of goes a very long way.
You will also need to be fluent with industry-standard programs and applications such as Adobe. So get learning and start creating!
Teaching/tutoring
When you think of teaching, you probably don't think of remote working.
However, thanks to advancements in technology and high-speed internet, it makes our list of the best jobs to work remotely. 
With classes moving online due to the pandemic, we could see more of a demand for remote teaching roles in the future. But teaching online doesn't need to be confined to English or other core subjects.
Thanks to the growing popularity of online learning resources such as SkillShare, the demand is there to teach any subject.
Top tip:
You don't necessarily need a teaching degree to teach remotely. 
If you are highly skilled in an area, there are opportunities to develop online courses focused on your specialised expertise.
Developer
The term 'developer' is a broad one. It can describe anything from a web developer to a software engineer, even infrastructure work.
One of the reasons why effective remote working is possible is because of the technology and processes we have to support a work from home model. 
The bottom line is, technology underpins a lot of what we do in life and business.
Because we rely so heavily on technology, those with the skills to support it are in demand.
Top tip:
There are plenty of opportunities in development roles, and they tend to pay well. However, these types of roles can be highly competitive. 
Freelance work is a great way to build your experience and portfolio. But remember, freelance roles offer less job security.
Translator
If you speak more than one language, you could consider translation roles.
These jobs can include translating written text such as news stories and online articles. 
Translator roles are typically on a freelance basis and allow you to work remotely.
Top tip:
As well as translating work, speaking multiple languages can also open up other doors.
Teaching languages online is an excellent option for working remotely. An added bonus is the flexibility you have around your working hours.
Finances abroad
Thanks to remote working being more commonplace, the idea of working abroad could appeal to a broader group of people.
If you are considering the expat life, speak with us to ensure your finances are in check.
We are specialists in financial advice for the expat market, with over 20 years of experience.
To find out how we can help you improve your financial situation, contact us using the form below.