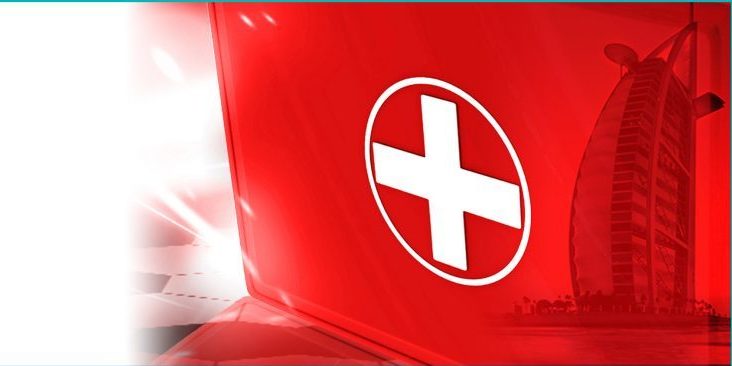 Medical Tourism in Dubai – the Good and the Bad
Posted on: 22nd November 2017 in Dubai
Medical tourism plays a key role in making Dubai one of the top global travel destinations. We are well set up to offer private medical care here with a thriving Dh1.4bn business and, a product that offers real benefits: medical tourism could save your life, it might save you money, and it will definitely save you time in Dubai – thanks to there rarely being waiting lists. As a UK expat in Dubai, you will already have private medical insurance thanks to your company, as well as perhaps supplementary policies. But you can still have a look at what is right on your doorstep in the way of enhanced medical care. And, if you are based on the UK, Dubai offers many advantages in medical tourism that other destinations do not.
Dubai & Medical Tourism: Snapshot
Medical tourism is the process of visiting a foreign country for treatment or prevention therapies. Dubai-based health providers can offer a wide array of healthcare services, including dental surgery, cardiac surgery, cosmetic surgeries, convalescent care, and psychological assistance (among others). In 2017, the Dubai Health Authority 
announced
 that the city generated over Dh1.4 billion from medical tourism in 2016, which represents a 9.5% growth compared to the previous year. The report said that orthopaedics, dermatology, and ophthalmology were the areas with the highest demand. In 2016, Dubai launched a medical tourism web portal, known as 
Dubai Health Experience
, where potential tourists around the world can browse through medical packages, visa services, travelling conditions, and so on. Dr. Laila Al Marzouqi, director of health regulation at Dubai Health Authority (DHA), 
said
: 
"Dubai is competing on quality and patient experience, and the growth of medical tourism over the last few years reflects that Dubai's high-quality health care is attractive for patients seeking to travel here for treatment."
Medical Tourism in Dubai – Advantages
Accessibility
 – Dubai's healthcare system and infrastructure are well-thought so that visitors could get fast access to any of the services. This is a strong feature, especially for those who cannot endure waiting on endless waiting lists in their own countries. Dr. Reem Osman, the CEO of Saudi German Hospital Dubai, a leading healthcare provider, 
said
: "
In some countries, waiting time is a matter of months. People will want to travel and not wait six to eight months for treatment."
Government support
 – the medical tourism sector in Dubai receives much support from the local government: the United Arab Emirates accounts for 26 percent of the total healthcare spending in the countries of the Gulf Cooperation Council (GCC), with the 
Dubai Health Experience
 a key investment for medical tourism comprising over 25 medical facilities in Dubai.
Location
 – Dubai has a strategic location, which ensures easy access for visitors from different world regions.
Expat population
 – Dubai has over 2.2 million expats, which account for 91% of its population. It helps the city to have an aura of diversity and makes it generally a destination of international interest. This cosmopolitanism also means that people can find medical providers where their native language is spoken. Obviously, English is prevalent!
Unique services
 – Dubai offers ultra-modern clinics and healthcare equipment which attracts people from countries with lower quality infrastructure. There are surgical procedures available in Dubai that cannot be conducted elsewhere in the region. Dr. Reem Osman said: 
"People mainly travel when they need surgery and they don't have (access to) the available surgeries. For example, for all types of cancer treatments, we see mainly patients from Africa where those treatments might not be available."
Medical Tourism in Dubai – Disadvantages
Prices
 – yes, it was not difficult to intuit that the costs for medical services in Dubai may be higher when compared to other countries! For example, some 
statistics
 show that personal care and healthcare services might be cheaper in London than in Dubai. In particular, when it comes to off-the-shelf medicines, a cold medicine in London would be 27% less expensive, and a box of antibiotics would be 60% cheaper than in Dubai. David Hadley, CEO of Mediclinic Middle East, said that the high expenses on building medical facilities are also reflected in the price. 
"It would be very difficult for the UAE to compete on price with lower-income countries such as India and Thailand,"
 he added. 
"Health care prices are essentially driven by salaries, which are directly reflective of the cost-of-living index of the given country. With the UAE being such a high-income country, it would not be feasible to match the prices on offer in lower-income countries."
Quality of care
 – the quality of services is pretty spectacular sometimes in Dubai, but there is still room for improvement, especially when compared to some leading Western countries. The great thing about Dubai, of course, is that strategic investment will be made – and continue to be made – to continually improve; that comes part and parcel of the dynamic culture.