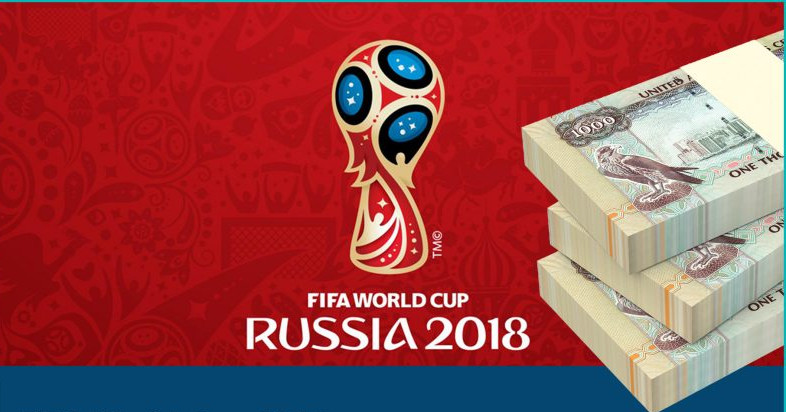 From Dubai to the 2018 FIFA World Cup – what's the cost?
Posted on: 13th December 2017 in Dubai
Football fans the world over waited with baited breath at the 1 December draw for the group stage of next summer's FIFA World Cup in Russia. England are through (as you may have heard). And if you fancy making it in person as a supporter or simply as an observer of the festivities, you better start calculating: how much will a trip from Dubai to Russia for the 2018 World Cup cost?
World Cup 2018 Match Tickets
It goes without saying that there is enormous demand for tickets – more than 1.3 million tickets were requested on 5 December 2017 when the application for tickets officially started; it will run to the end of January 2018. FIFA, the governing body, will make a random draw over this period and then a First Come, First Served basis will operate between March and April 2018. Exact prices will vary – so have some cash in your savings account at the ready! Find further details here.
Flights to Russia
England's tournament (adjust the following details if you follow a different country!) starts from 18 June 2018 in Volgograd, a city west of Moscow. A flight to this city from Dubai on 17 June 2018, for example, will range from between Dh2,796 – Dh3,800, according to kayak.com and could require up to two stopovers. It's a similar story flying to Moscow. A 13 June 2018 flight ranges from the one-stopover routes using Azerbaijan Yollary and Aeroflot (between Dh1,315 and Dh1,505 return) right up to the direct flight with KLM Royal Dutch at Dh9,475.
Food
This can depend on where you are and, of course, how hungry you are. Bridgetomoscow.com insists that budget-conscious tourists can find restaurants with homely dishes for around EUR 10 (Dh44) on a relatively common basis in the Russian capital, while meals of different cuisines in more trendy areas might charge between EUR 15-50 (Dh65-217).
Hotels
England will play its group games in Volgograd, Nizhny Novgorod and Kaliningrad. Exact prices for just a few days prior to the start of England's campaign on 18 June 2018 are unavailable unless you go through the booking process through an online vendor. However, as a snapshot of prices at the time of writing in December 2017, Volgograd hotels range from less than Dh100 per night to many times higher. As examples, Sobranie Hotel as listed on booking.com at Dh211 per night, while Hotel Volgogradhas December prices of around Dh307 per night. In Kaliningrad hotel rooms are as little as Dh57 per night on trivago.ae, but generally between Dh112-310 per night on kayak.com.