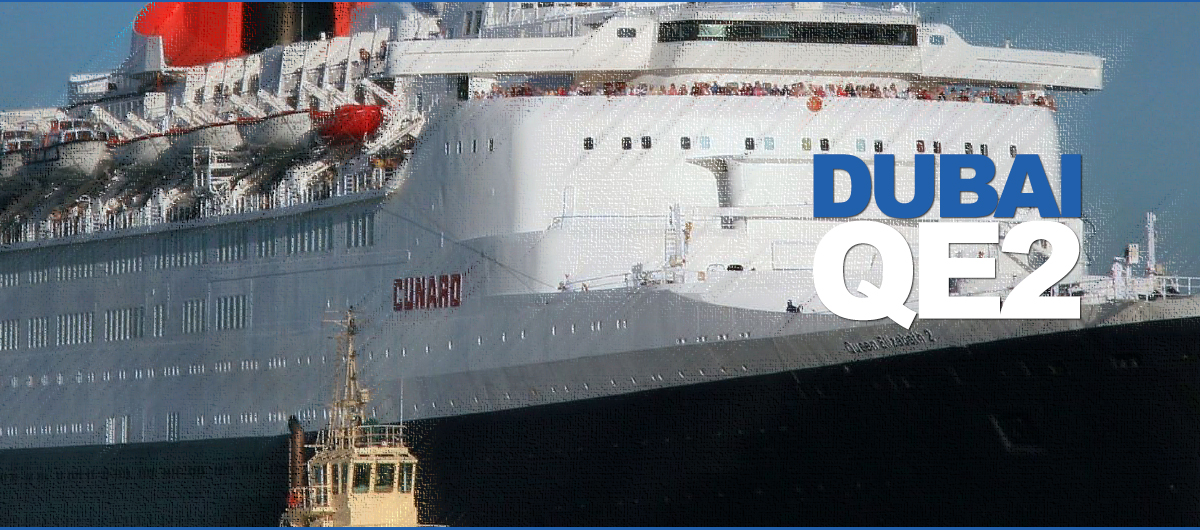 Dubai docks the QE2 for good
Posted on: 19th April 2018 in Dubai
The famous British ocean liner QE2 has found a new permanent home in Dubai as luxury floating hotel.
In a fantastic new lease of life, the Queen Elizabeth 2 (as she was formally named) has been transformed into a 13-deck luxury hotel to be permanently moored at Mina Rashid in Dubai, according to QE2.com. The ex-cruise ship's future looked uncertain after her acquisition by the private equity arm of Dubai World in 2008 and the financial crisis which struck in the same year. So, her "soft" opening on the 18
th
April has come as welcome news to those fond of this historic liner. The "grand" opening is scheduled for October later this year.
Luxury like Dubai does it!
The ship, now operated by PCFC Hotels, a division of the Ports, Customs and Free Zone Corporation owned by the Dubai Government, has retained a British feel following the extensive refurbishment and sports a traditional English pub, The Golden Lion. Customers will even be able to sample some of the original dishes offered on her maiden voyage in 1969 in one of the hotel's 13 planned restaurants and bars on board. There will be a total of 13 different types of rooms available ranging from 180 square feet through to 800 square feet for the royal suites. If you fancy treating yourself the royal suites come complete with private dining rooms and verandas.  Rates will reflect the level of luxury you can afford, ranging from a modest AED 600, to a more extravagant AED 25,000 per night.  You'll be in prestigious company though – the ship has played host to the Queen, Princess Diana as well as Nelson Madela and Beatles George and Ringo!
Life in the old girl yet!
The retired ocean liner was originally built for Cunard for the transatlantic service from her home port in Southampton to New York in 1969.  The QE2 was Cunard's flagship liner until the Queen Mary 2 entered service in 2004.
Prince Charles was the first "civilian" to board the ship on her maiden voyage from Clydebank (where she was built) to Port Glasgow.
The QE2 carried nearly 2.5 million passengers in her lifetime and completed 801 Atlantic crossings.
 In 1982 the QE2 was requisitioned by the British Government as a troop carrier in the Falklands War.
 The ship boasted the largest cinema at sea seating 531.
 The QE2 was Cunard's longest serving express liner, clocking in a respectable 39 years of service, until she was retired in 2008.
 It took over 2.7 million man hours to upgrade and rebuild the ship to meet the hotel's luxurious requirements.
The luxury hotel has incorporated many of the original features to retain its authentic feel including artwork, furniture and nautical memorabilia.
Need professional financial advice?
We have 18 offices across the globe and we manage over $2billion for our 20,000+ clients
Get started