Financial Advice for Airline Pilots
If you're a pilot or work in the airline industry, you'll naturally face unique challenges when it comes to managing your finances. Our guide to financial advice for airline pilots contains all the information you need to make sure your finances aren't set on autopilot.
Get financial advice
Those in the airline community have unique challenges, needs and goals.
This is why a tailored approach to financial planning for airline employees is required.
Holborn Assets provide specialised financial advice for pilots and airline employees. Our goal is to help you avoid unwanted turbulence and ensure a smooth landing when it's time to retire.
Why financial planning for airline employees is important
Etihad, Emirates and Qatar airlines are all based in the UAE. As a result, airline employees are often expats in need of financial advice in the UAE.
As a result, pilots and other airline employees often benefit from a tax-free income. Those based in the region also have access to a wide range of financial services and products.
For those in the airline community, knowing the best option and managing your finances in a new country can be a challenge. That's where specialised financial guidance for airline pilots and employees can help.
Working with a financial adviser and having a financial plan helps you create a clear roadmap to achieving your goals.
Visit our page on financial planning in Dubai for a more detailed breakdown.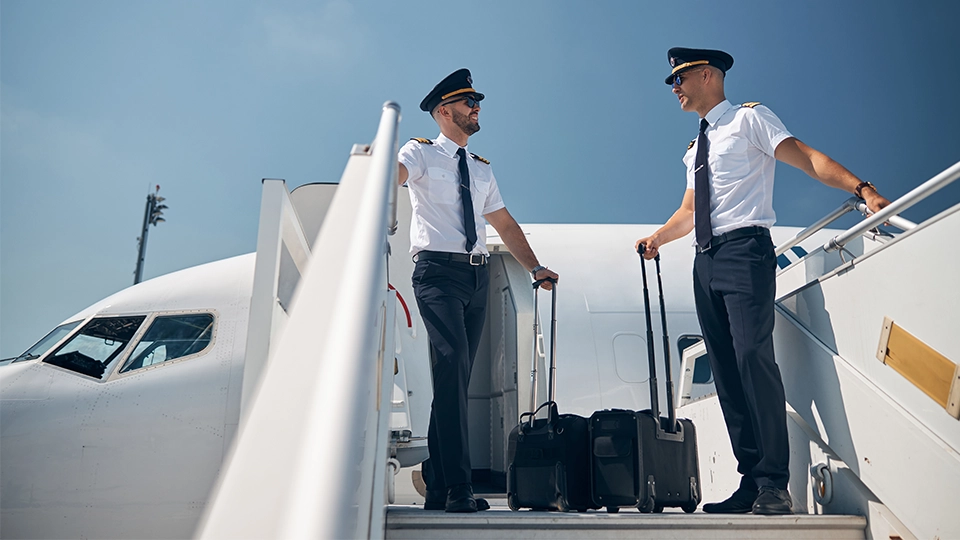 Why financial advice for pilots is different
The financial planning process for pilots is often very different to other expats living in the UAE. This is mainly due to the strict deadline pilots have to ensure they are prepared and have adequate financial advice for retirement.
For those working in other sectors, there is the flexibility to extend their careers if they are behind on their retirement savings goals. However, commercial pilots do not have this option.
With a mandatory retirement age of 65, planning early to ensure you are financially secure by the time you retire is essential. As a result, financial advice for pilots must be tailored to your investment objectives and goals with your retirement date in mind.
The question is, are you on track to meet your retirement goals? Working with a financial adviser can help you navigate some of the unique challenges you face.
As someone who has a well-paid job, you might require wealth management for high net worth individuals as this will differ to standard financial advice.
Holborn Assets financial services can help you build an effective retirement planning strategy. We have the knowledge and experience to provide the financial guidance that pilots and airline employees need.
What pilots and airline employees need to consider
Some key things to consider for pilots and other airline employees in the UAEinclude the following:
Retirement planning/financial planning
Having a clear financial plan is the best way to reach your short-term and long-term financial goals.
Financial planning for airline employees may include:
A savings plan
Estate planning
Another important aspect of financial planning for pilots is retirement planning.
As mentioned above, pilots have a mandatory retirement age of 65. What you do leading up to that age will determine how much you have saved for retirement. Ultimately, this will determine your lifestyle when you are no longer working.
Estate planning
Estate planning is an essential part of your broader financial plan. One of the key components of estate planning is writing a will.
Even if you made a will in your home country, you might need one that complies with local laws. Holborn Assets and our legal partners can help ensure you have a will that complies with local laws.
However, there are also tax implications to consider.
If you are an airline employee working in the UAE, there are not only local laws to consider but also those back home.
Depending on your situation, any assets you pass on may be subject to tax in your home country. However, some products and strategies can help lower any tax liabilities, allowing you to pass on what you intended.
Insurance
Insurance protects against several things, such as medical expenses or a loss of income.
For pilots, being diagnosed with certain disqualifying medical conditions can result in a loss of income.
In these situations, the right insurance can financially protect you and your family should any unexpected medical conditions arise.
Investments
Investments are a long-term strategy to build wealth.
As an airline employee based in the UAE, your investments, like your income, are not subject to income tax.
Working with a qualified financial adviser can provide several benefits. Not only can they help you make informed investment decisions, but they can help ensure your investments are tax-efficient should you decide to leave the UAE in the future. They can also help you mitigate and manage risk with wealth management.
Offshore options
Offshore bank accounts are those outside of your home country and the country where you currently live.
Offshore banks are better at dealing with situations that overseas workers face. For example, making and receiving payments in different currencies. They can also provide tax benefits and better exchange rates than onshore options.
Tax planning strategies
As an airline pilot working for one of the UAE-based airlines, your income is likely tax-free. Not only does income tax not apply to your salary, but gains from investments are also exempt in the UAE.
While you may live in a tax-free country, you could still be liable for tax back in your home country, depending on your circumstances. It's also worth considering your long-term plans, for example, should you decide to return home at some point.
A tax planning strategy can ensure you are as tax-efficient as possible. However, tax and cross-border tax rules can be complex topics. Working with a professional can help simplify things and develop the right strategy for tax planning through wealth management.
Holborn Assets – Financial Adviser for Airline Pilots
Holborn Assets are a leading, award-winning financial services company who are well-placed to help expat pilots and natives with their wealth.
Based in Dubai, we specialise in the expat market, providing quality financial advice and wealth management solutions to improve and enhance your finances.
If you're seeking independent financial advice, get started by contacting us today.