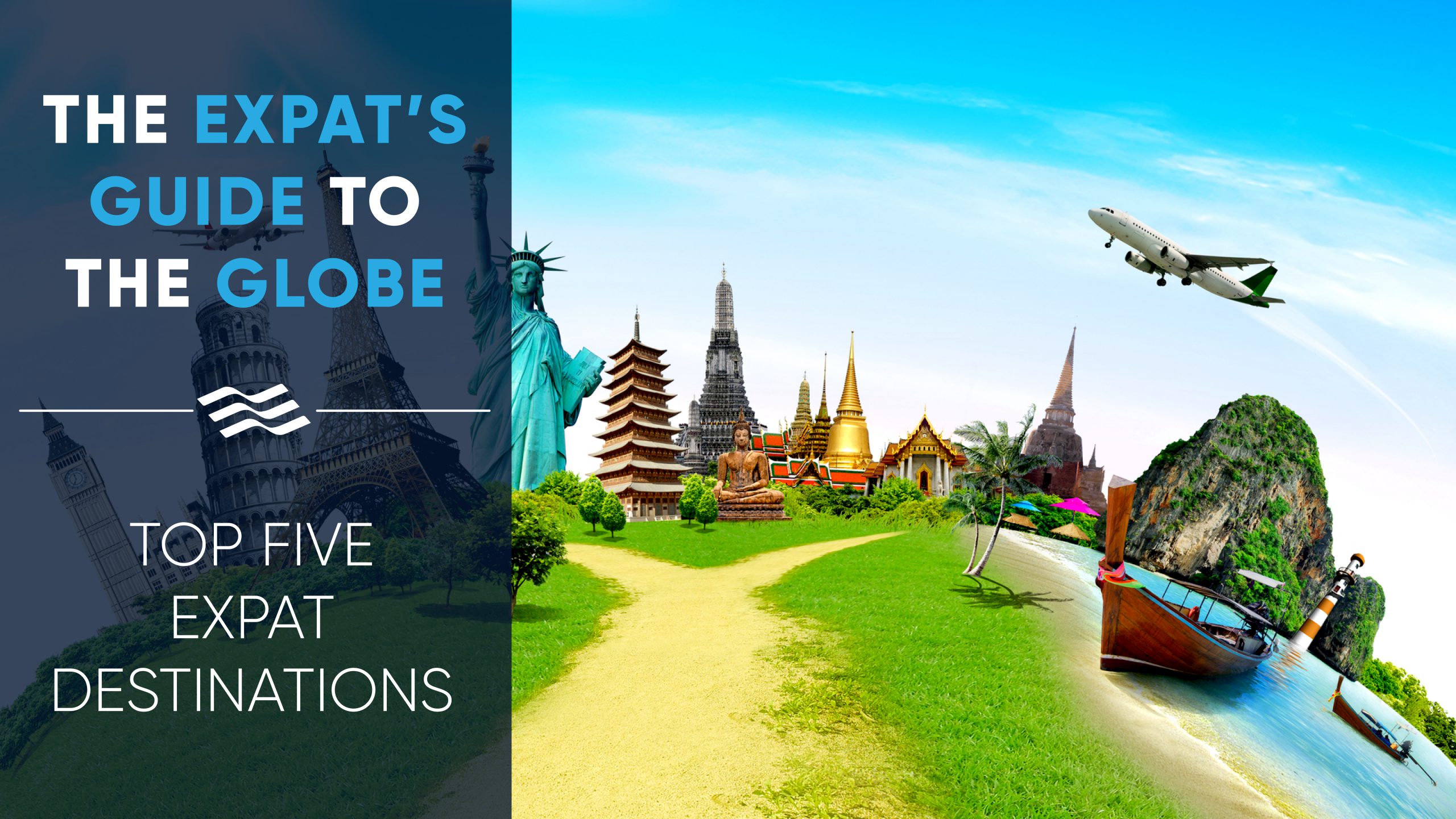 Top Five Expat Destinations
Posted on: 19th February 2021 in The Expat's Guide to the Globe
The expat lifestyle can be a truly rewarding one. The chance to work and live abroad creates a unique experience and builds memories that last a lifetime.
Of course, leaving the life you know and moving abroad does come with its challenges. Sometimes you need a little advice, which is where our new series comes in. 
The Expats Guide to the Globe is our weekly series, designed to help new and existing expats navigate the challenges associated with the lifestyle. Each week, we will take an in-depth look at a different topic to give you the information you need to make the most of your expat experience.
This week, we take a look at the top five expat destinations.
---
The UK has been a surreal place to be over the last year.
Battles raged over fishing waters, as the country locked horns with Europe to end the long-running saga of that which shall not be named.
Away from the negotiation table, panic swept across the nation as experts tackled a deadly virus. With people looking for answers, some people started to point the finger at 5G towers as the culprit. 
And let's not forget the widespread, absurd concerns that a tech billionaire was trying to microchip our brains. 
It's fair to say that 2020 felt more like the plot of several random low budget films colliding. If 2020 was a movie, then 2021 is starting to feel like the sequel.
It's no wonder that more people than ever are looking to escape the madness for something a little different.
Migration
If you are thinking of trading your current home office location for something a little more exotic, you're not alone.
Data from the Office for National Statistics (ONS) showed more than 400,000 people left the UK in the year ending March 2020. So, where are expats heading? 
Research by HSBC revealed that Switzerland was the most popular expat destination for the second year running. The Expat Explorer Survey ranks countries based on criteria such as quality of life, wellbeing and work/life balance.
Out of the 40 countries which make up the table, the UK ranks 28th. To make matters worse, the UK is 37th for physical and mental wellbeing.
So, if that is enough to make you consider moving overseas, let's look at some of the top expat destinations.
Top five destinations
What matters the most to you will be the deciding factor for choosing a new location. In other words, it all comes down to preference.
For that reason, we have chosen to go with hard data to bring you the top five expat destinations, based on HSBC's Expat Explorer Survey.
5 – Spain
If boosting your overall wellbeing is what you are looking for, Spain might be the move.
The country ranked first for quality of life, physical and mental wellbeing, and community. Spain also came in second for work/life balance.
You may be wondering why Spain didn't rank higher on the list. While it may be one of the top expat destinations for quality of life, Spain doesn't rank well financially.
Spain came in last for salary potential and career progression. Still, if you are looking to improve your quality of life in warmer surroundings, there is no better place.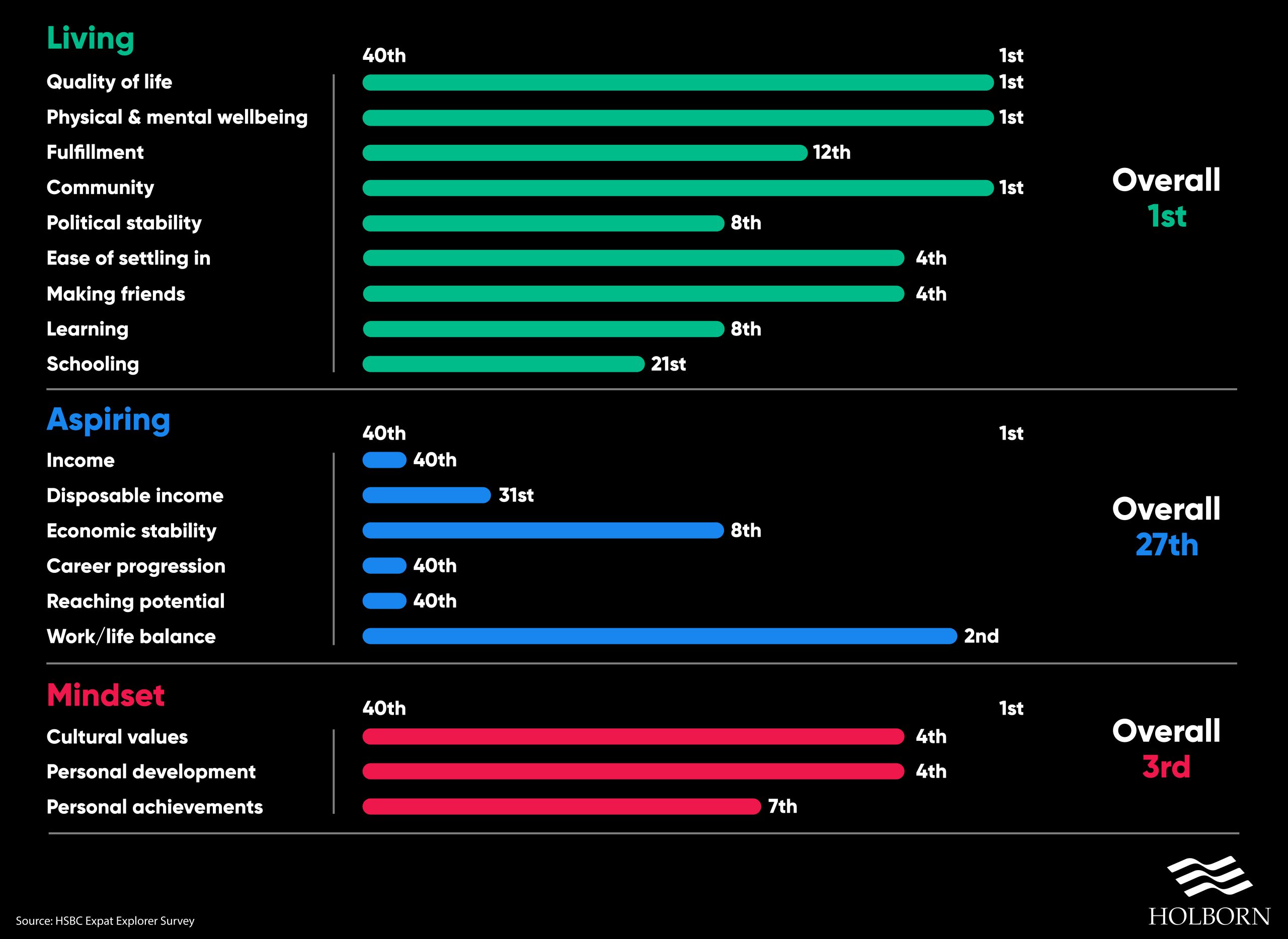 4 – Germany
Germany may not be the first country you think of for expat destinations. However, for those relocating with family, the Western European country could be appealing.
Germany ranked 4th for both learning and schooling, good news for those with children of school age.
The country also scored highly for both political and economic stability, ranking 4th and 2nd respectively. You'll also have more time to spend with your family.
According to data by Statista, full-time workers in Germany work 34.3 hours per week on average. To put that into perspective, the European average is 41.2, and the UK average is 42.5 hours per week.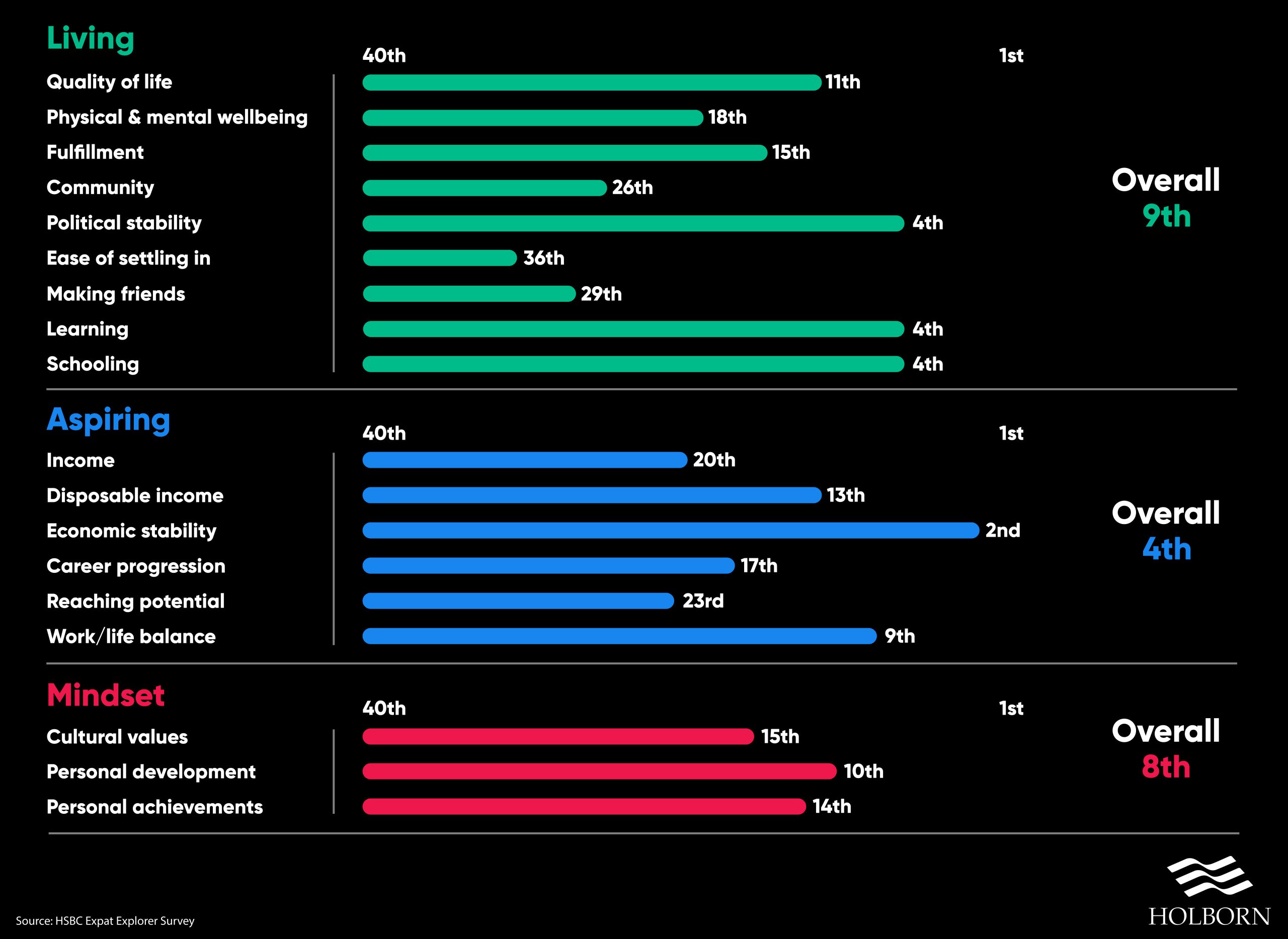 3 – New Zealand
It's no wonder that New Zealand is becoming an increasingly popular expat destination.
The way the country has handled the pandemic has been praised across the globe. Looking at the data, it's easy to see why New Zealand took the third spot in the Expat Explorer Survey.
The Oceania country ranked 1st for both personal development and work/life balance. This means that expats will have more time to explore the picturesque landscapes that New Zealand offers.
New Zealand also ranked 3rd for quality of life and 2nd for physical and mental wellbeing. On top of that, the country also ranks as one of the friendliest on the list.
The cost of living may be higher, but that seems like a small price to pay for the benefits that New Zealand offers expats. 
2 – Singapore
Singapore is a rich and vibrant place that expats from across the globe call home. However, Singapore is definitely a place for career-driven expats.
The city-state has one of the worst work/life balances in the top 40 but scores highly on salary. Singapore also ranks 2nd overall for career progression.
If you have children, you'll be pleased to know that Singapore ranks 1st for schooling.
For those looking for a luxury living among a bustling metropolis, Singapore has you covered.
1 – Switzerland 
Taking the top spot on this list of the top expat destinations is Switzerland. 
The Central European country is home to Zurich and Geneva, two of the world's most expensive cities. However, there is a reason why expats aren't put off by the price.
The average annual salary for expats is just over $200,000 (£143,000). That explains why Switzerland is one of the highest-ranking countries for both income and disposable income.
Unlike other countries with higher salaries, Switzerland has a far better work/life balance, coming in 6th out of the 40 countries. This means less time in the office and more time in the Alps mastering your skiing.
For those relocating with children, Switzerland has some of the leading international schools. The country ranked second overall for schooling.
With all it has to offer expats, it's easy to see why Switzerland retains the Expat Explorer Survey's top spot.
Thinking about your finances
Wherever you end up in the world, make sure you make the most of your expat experience financially.
As specialists in the expat market, we have been working with clients for over 20 years to reach their financial goals.
Whether it's building an investment portfolio or tax-efficient savings, our experts can help.
To find out how we can help you, contact us using the form below.