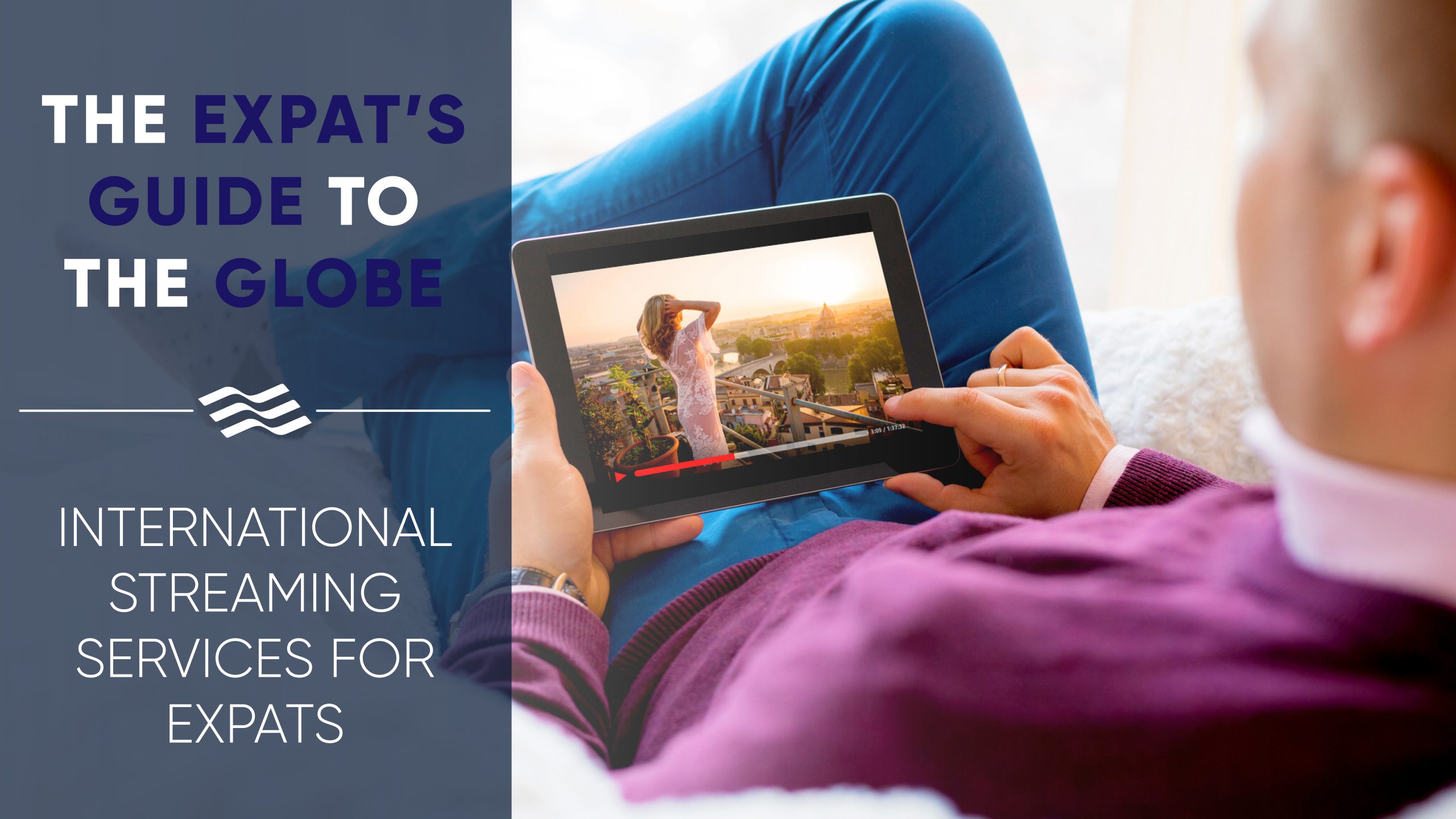 International streaming services for expats
Posted on: 5th February 2021 in The Expat's Guide to the Globe
The expat lifestyle can be a truly rewarding one. The chance to work and live abroad creates a unique experience and builds memories that last a lifetime.
Of course, leaving the life you know and moving abroad does come with its challenges. Sometimes you need a little advice, which is where our new series comes in. 
The Expats Guide to the Globe is our weekly series, designed to help new and existing expats navigate the challenges associated with the lifestyle. Each week, we will take an in-depth look at a different topic to give you the information you need to make the most of your expat experience.
This week, we take a look at international streaming services for expats.
---
The term 'content is king' is overused and cliché. However, there is no denying that it is true.
International streaming services, such as Netflix, have changed the way we consume content.
They have launched a direct and brutal attack on traditional, scheduled TV – and that's fine by us. In fact, we are happy to pay them a monthly fee to continue in their quest for content domination.
While we take for granted how easy it is to binge-watch our favourite shows, expats can run into problems.
In this article, we take a closer look at streaming services and how expats moving abroad can continue to enjoy their favourite shows. But first, let's look at how streaming platforms have become a part of our everyday life.
Rise of streaming platforms
When it comes to market dominance, one streaming service towers over its competition – Netflix. The US-based company is the perfect example of how streaming services have exploded in recent years. 
Netflix started life as a DVD-by-mail service in 1997. By 2007, the company began offering a streaming service and the rest, as they say, is history.
According to data from Statista, the streaming service now has over 195 million paid subscribers worldwide, and its revenue has soared. January of 2021 saw Netflix hit a record value of nearly $260 billion.
Closer to home and team red also wear the content crown. Of those who use streaming services in the UK, 84% use Netflix. Amazon Prime Video came in second with 67%.
Here is a breakdown of the UK streaming market.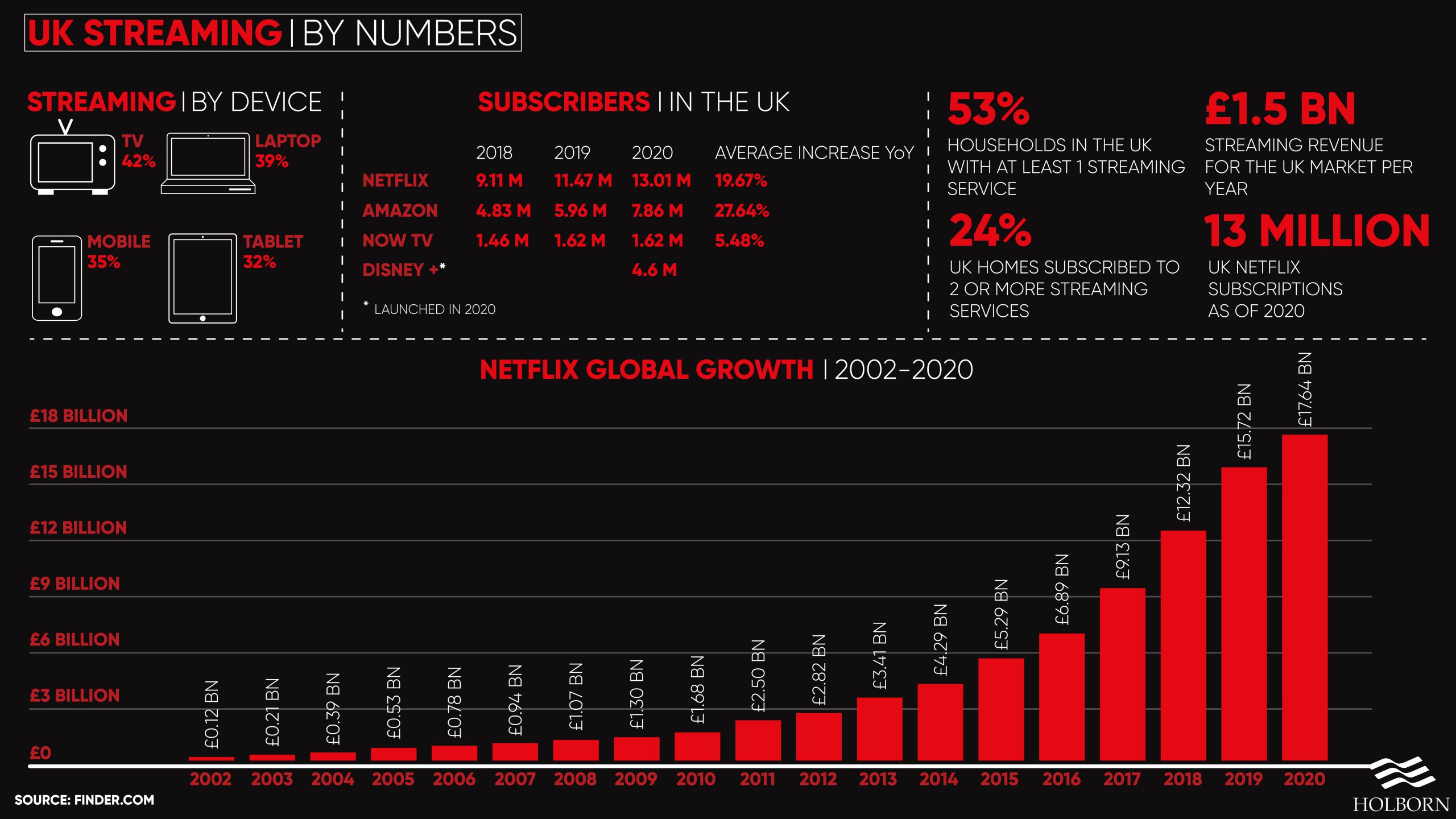 So, what does all of this tell us? Brits love their content. The trouble is, for expats moving abroad it can be difficult to watch their favourite content.
Here are some tips and things to be aware of to avoid any potential pitfalls.
Expats and international streaming
If you are a Netflix or Amazon Prime Video user, the two services probably have you covered.
Netflix is available in over 190 countries, while Amazon's streaming service is available in over 200. As an expat, watching your favourite shows on either platform will likely be possible.
Expats moving abroad may run into issues when they try to access their account from another country.
Content on both platforms is region-specific. For example, shows that you watched on Netflix in the UK may not be available on the app's Spanish version.
British-based streaming services such as ITV Player, BBC iPlayer or All4 can be a little more tricky. 
These platforms are only intended for use in the UK. Accessing them outside of the UK is a grey area and beyond the scope of this article. However, provided you have a UK TV Licence, you can download shows from these platforms while you're in the UK to watch at a later date offline.
On the subject of region-locked content, let's take a look at the hot topic surrounding it – VPN use.
The complicated world of VPNs
This is where things can become complicated and where grey areas can quickly turn into illegal activities.
Let's start with a quick and basic introduction to VPNs and how they work.
A VPN (or virtual private network) has two common purposes. The first is to encrypt your data. The VPN acts as the gateway between your device and the internet, blocking your information from being seen. 
Think of a VPN like your living room curtains. If you leave them open, anyone walking past can peer into your living. Simply closing them gives you privacy from prying eyes.
The second use is changing your virtual location. Connecting to a VPN from say, the USA will make your device appear to be from that country. There are several reasons why you might want to do this.
Depending on the country you are in, some websites offer different prices on the same item. A VPN allows you to shop for the best price by hopping from one country to another.
It's worth pointing out that VPNs are perfectly legal in most countries. Typically, people use a VPN to retain their privacy online.
So, if a VPN isn't illegal, why is it a grey area for streaming services? The issue is the way it is used.
VPNs and streaming 
Generally speaking, accessing services such as BBC iPlayer or ITV Player using a VPN is prohibited. When it comes to other international streaming services, it's a little less clear.
Major publications and reputable sources often talk about VPN's and their use for getting around geo-locked content. Doing so is not illegal in most cases. However, it could violate the platform's terms of services.
Take Netflix's terms of service, for instance. Section 4.3 states the following:

Still, Netflix is aware that people do use a VPN for work or simply for privacy reasons. In most cases, this results in an error message which recommends you turn off your VPN.
As you can probably tell by now, accessing content as an expat is a little more tricky than it is in the UK. It's always best to check out the terms of service for your specific streaming platform of choice.
Here to help
While we may not be experts in international streaming services, we are when it comes to financial advice for the expat market.
For more than 20 years, Holborn has been working with expats across the globe to reach their financial goals.  
Whether it's building a robust investment portfolio or planning for retirement, our experts can help. Who knows, they may even be able to recommend your next binge watch on your favourite streaming platform.
To find out how we can help you, contact us using the form below.