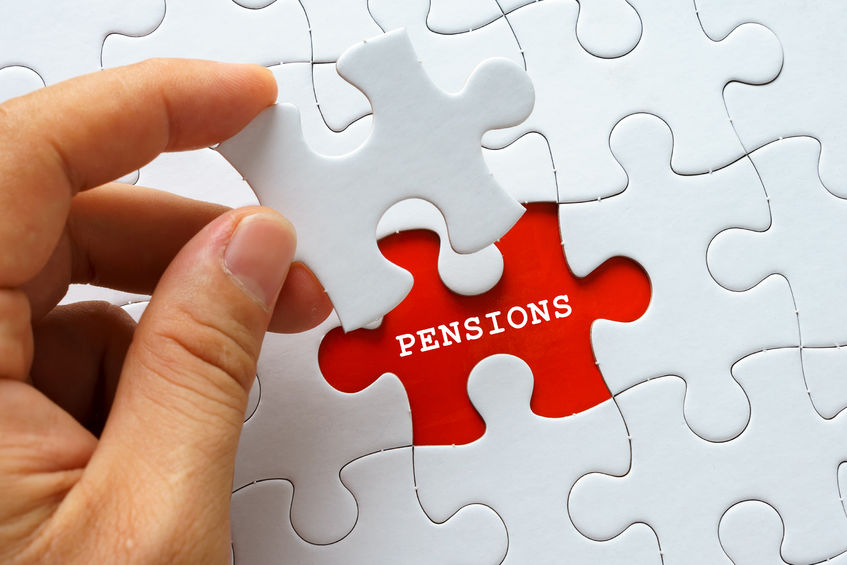 UK Launches New Pensions Dashboard Prototype
Posted on: 6th June 2017 in Pensions
The Association of British Insurers has in April 2017 launched the prototype of the new online Pensions Dashboard due for release as a government package to all UK citizens in 2019. The aim of the Pensions Dashboard is, for the first time, to provide Brits with all their pension information in one place. UK citizens are calculated to have, on average, 11 jobs throughout their life – and therefore 11 pensions to keep track of. Until the Pensions Dashboard arrives in two years time, the best a pension-savvy Brit can hope to keep track of the details of their pension is to design their own tracking system in a spreadsheet programme. But things are going to get a lot easier, for everybody: "In the future," says Simon Kirby of the UK Treasury, "we want people to be able to review their pension as part of their online banking or perhaps change how they save into a pension while using their phone on the way into to work."
What does the Pension Dashboard look like?
Below is a sample screen from the prototype dashboard: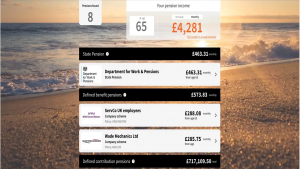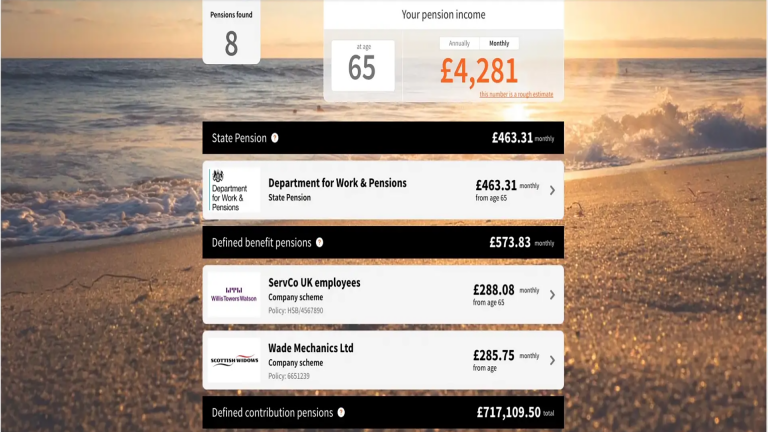 At the top right, view your total annual or monthly income (the bright orange figure). The rest of the overview page features a breakdown of all your pension income – including state, work and personal pension schemes.  
Is this Pensions Dashboard going to help me know what I am doing with pensions?
It all depends on how much of a retirement planning guru you are. If you're facing up to your retirement with enthusiasm, you may already be champing at the bit to get all your pension statistics in one place. The information summary provided by the Pension Dashboard is perhaps exactly what you need as the basis for a careful strategy to fund your retirement that you have worked out for yourself. But if, on the other hand, you haven't really given your retirement much thought, the Pensions Dashboard won't give you a strategy. It will help you get your facts straight – but the best plan is to speak to a professional. Show an IFA your Pension Dashboard when it comes out in two years time – and ask for ideas! The Pensions Dashboard Prototype Project Group stresses that the role of the Pensions Dashboard is to provide an information summary, not an advice service: "pensions dashboards will show you what you've saved so far. They'll also show you an estimate of what they may be worth in the future." "For more information," says the Project Group, "you will need to speak to the pension providers direct, to one of the free advice services, or to a financial adviser. A financial adviser can help you plan ahead and explain what happens if you take some of your pensions as cash or income."
How does the Pension Dashboard work?
A simple 4-step process is planned for users: STEP 1: First you confirm your identity. It is likely that the existing government scheme for confirming personal identity will be used: .gov.uk. This is already used to offer secure online access to tax and pension personal details. STEP 2: You give your permission for your information to be shared (appropriately). This is an important step for the government, which is naturally keen to steer the right side of data protection laws. STEP 3: You action a powerful, automatic query service. All relevant pension providers and schemes are searched in order to provide a comprehensive overview of where your pensions stand. "It will usually take a few seconds to track down all of your pensions," says the Pensions Dashboard Prototype Project Group, "but everything will depend on where your pensions are. Sometimes it may take a few days." STEP 4: On a handy, single page, the system reports back. You get a breakdown of all your pensions and a total income value (calculated annually or monthly, as you choose). You will be able to click on each individual pension scheme listed in your overview and access further details.
How many Pension Dashboards will there be?
It is not just private individuals who will potentially have access to pension details with a Pensions Dashboard. The Pensions Dashboard Prototype Project confirms that a wide scope of applications is envisaged: "Your bank may have one. Your employer may have one. An advice service may have one. There will also be Pension Dashboard apps you can download to your phone."
Why does this sort of project take so long to sort out?
There's the scale to consider There are around 64 million pension pots held in the UK. And the Pension Dashboard aims for it to be possible, at least, to account for every single one of them. There are technological hurdles On this issue of practical technology, Yvonne Braun of the ABI says, "it sounds obvious that in 2017 everyone should have easy online access to all their pension in one single place of their choice – yet the practicalities of making that happen are very complex." There are 3 data issues 1) Data protection rules: this is about privacy. How much personal information can be shared with whom is a constant concern; rules must be adhered to 100% or risk a catastrophic failure of the entire dashboard project. The ABI stresses that however the Pension Dashboard is run, there will be time to work inadequate data protection standards; "the regulation of future pensions dashboards, whether by the Financial Conduct Authority or by a new independent body, would be able to insist on certain data and security standards for all firms interacting with pensions dashboards." 2) Data security: this is about, well, security! Data protection is about privacy, data security is about sensitive financial information being stolen or mislaid – and the more information sources involved, the more risk a system poses. 3) Data integration: this is about pension companies co-operating. Ideally, all pension schemes need to be agreed on the best way to share streamlined information. The consensus amongst so many stakeholders – many of which are now barely alive as business entities – would be impossible to achieve. But the ABI and the UK Government need to aim for agreement because this will encourage an efficient approach delivering timely information into the dashboard. So – scale, technology and data. All three weighty issues have to be signed off by all involved before the dashboard makes it from prototype to a useful reality for consumers.
Who is behind the Pensions Dashboard?
Under the aegis of the Association of British Insurers (ABI), 17 pension firms have each invested £50k into the development of the Pensions Dashboard:
| | | |
| --- | --- | --- |
| Abbey Life (now under Phoenix)AonAvivaFidelity International HSBC | Legal & General Lloyds Banking Group (Scottish Widow) LV= NEST NOW: Pensions Phoenix | Prudential Royal London Standard Life The People's Pension (B&CE) Willis Towers Watson Zurich |
The prototype has been developed with technology from 6 firms: Aquila Heywood, Experian, ITM, Origo, Runpath and Safran. The prototype is managed by the Pensions Dashboard Prototype Project.
How was the prototype launched?
The Pensions Dashboard prototype was launched on April 12, 2017, at FinTech Week. Economic Secretary Simon Kirby says "developers, consumer representatives, journalists and policy experts" will come together for a 24-hour "TechSprint" to explore the potential of the prototype.
Verdicts
The Pensions Dashboard is all about people power "'Pensions dashboards will allow consumers to more easily see all their pension information in one place for the first time and I'm delighted with the prototype system the industry has created … through this project, we're putting more information directly in the hands of consumers and making it easier for people to plan for their retirement. Harnessing the power of technology to give people easier access to their information will help them be more informed when planning their retirement – one of the most important financial decisions in a person's life." (Simon Kirby, UK Economic Secretary) Let's not lose sight of the Savings Gap "Allowing savers to see all their pensions in one place would be a welcome step forward and should help boost engagement with retirement saving. However, we need to be realistic and not treat this as some sort of panacea that will solve the savings gap in the UK." (Tom Selby, Senior Analyst, AJ Bell) Are pension schemes up-to-speed with this modern tech? "The next phase of moving towards a "live" dashboard will reveal the extent to which schemes and providers have invested in modernising their pensions … those who have not fully automated their record-keeping, perhaps relying on paper, or with data gaps, will have these weaknesses exposed and come under pressure to take action. But even those running on older systems will be shown as lagging behind modern, digital pensions … the prototype shows pension dashboards will be a reality, and this should be a wake-up call to schemes and providers UK-wide to invest in technology and the enhanced customer experience this brings." (Kate Smith, Head of Pensions, Aegon)
How can I keep an eye on my pensions until the Pension Dashboard becomes available for use online in 2019?
Review the status of your UK state pension here. Use the UK Government's Pension Tracing service here. Track down pension companies on the ABI's online Register of Consolidations here.