In the Spotlight: Lee Lai-shan
Posted on: 6th March 2020 in In the Spotlight
Some people transcend their chosen fields. Whether it's sports, politics, film, music, or any other area, some rise above the rest.
With offices globally, Holborn continually aims to appreciate the cultural heritage of the locations in which we are located. "In the Spotlight" is a new weekly series of tribute pieces, shining the proverbial spotlight on various
 global icons and their contribution to their respective country.
This week, we look at Lee Lai-Shan 
— 
Hong Kong's biggest sporting hero.
____________________
Sports are ingrained into Hong Kong culture.
The territory became part of the British colony in the late 19th century. Western influence introduced the region to sports such as football, snooker, and table tennis.
Today, Hong Kong has athletes at the top of several sports that compete on the world stage.
The region may have produced sporting icons, but one name stands head and shoulders above the rest – Lee Lai-Shan.
The rise of a Champion
The Olympic athlete was born in Cheung Chau, an island 10km to the southwest of Hong Kong Island.
Known affectionately as 'San San', she was introduced to windsurfing at the age of 12 by her uncles.
Five years later, Lee began competing at the age of 17. After two short years, she turned professional, joining the Hong Kong team as a 19-year-old.
Things were tough at first, due to a lack of funding for the Hong Kong windsurfing team.
Despite the financial difficulties, Lee competed across Europe. It was in 1990 that she would start to make a name for herself.
She took the silver medal at the 1990 Asian Games in Beijing, which set her on a path to becoming an Olympic athlete.
Lee made her Olympic debut at the 1992 games in Barcelona. It was a step up in competition, but she finished 11th, the best finish for an athlete from Hong Kong in any sailing based sport.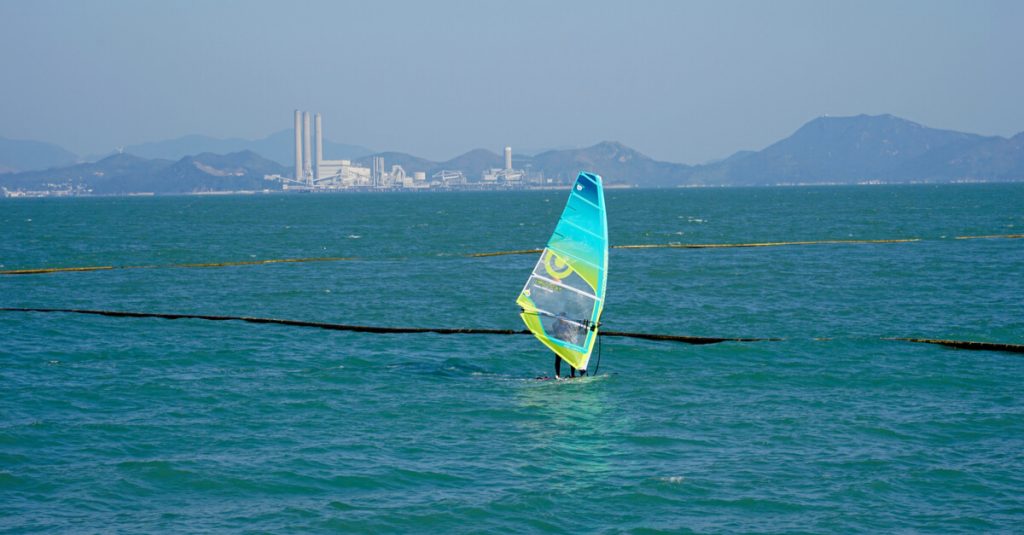 Cheung Chau – where Lee Lai-Shan was born
Making history
Lee continued to record impressive victories, including a win at the 1993 World Championships. It was three years later that she would cement her place in Olympic history, and establish herself as an icon for Hong Kong.
The 1996 Atlanta Olympic Games didn't get off to the best of starts for Lee.
A jellyfish sting before the first race caused her left leg to swell. Even with the swollen leg, she managed to finish third in the opener.
The setback with the jellyfish sting proved to be a minor one, as she finished second in four of the remaining races.
However, it was race eighth of the games that would go down in history. 
Lee won the race, taking her from Olympic athlete to Olympic champion.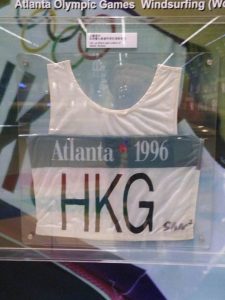 Lee Lai-shan's gold-winning Olympic jersey
The gold medal wasn't just Lee's first, it was also the first gold ever won by Hong Kong. 
Cultural impact
Securing gold made the Cheung Chau Olympic athlete a hero in Hong Kong.
The significance of that win can not be understated. 
Gold in Atlanta made Lee Lai-Shan the first and only Olympic champion to represent Hong Kong. Her triumph gave the region a sense of optimism and showed the world that Hong Kong could perform at an elite sporting level.
1996 was the last time that Hong Kong competed at the Olympics as a British territory. It became part of the People's Republic of China in 1997, going on to compete in future Olympics as Hong Kong, China.
Lee went on to add a further two Asian Games titles and two world titles to her trophy cabinet. Despite her success, the decorated athlete no doubt holds her heroics in Atlanta as her most significant sporting moment. 
The Olympics are the pinnacle of any athlete's career. Winning gold is a symbol of years of hard work, self-belief, and determination. It represents an athlete's dedication to their craft and immortalises them as one of the best.
For Lee, winning gold didn't just place her at the top of windsurfing. It secured her spot in Hong Kong's history and made her an icon.
Windsurfing may not be the regions biggest sport, but Lee Lai-Shan is undoubtedly their biggest sporting hero.