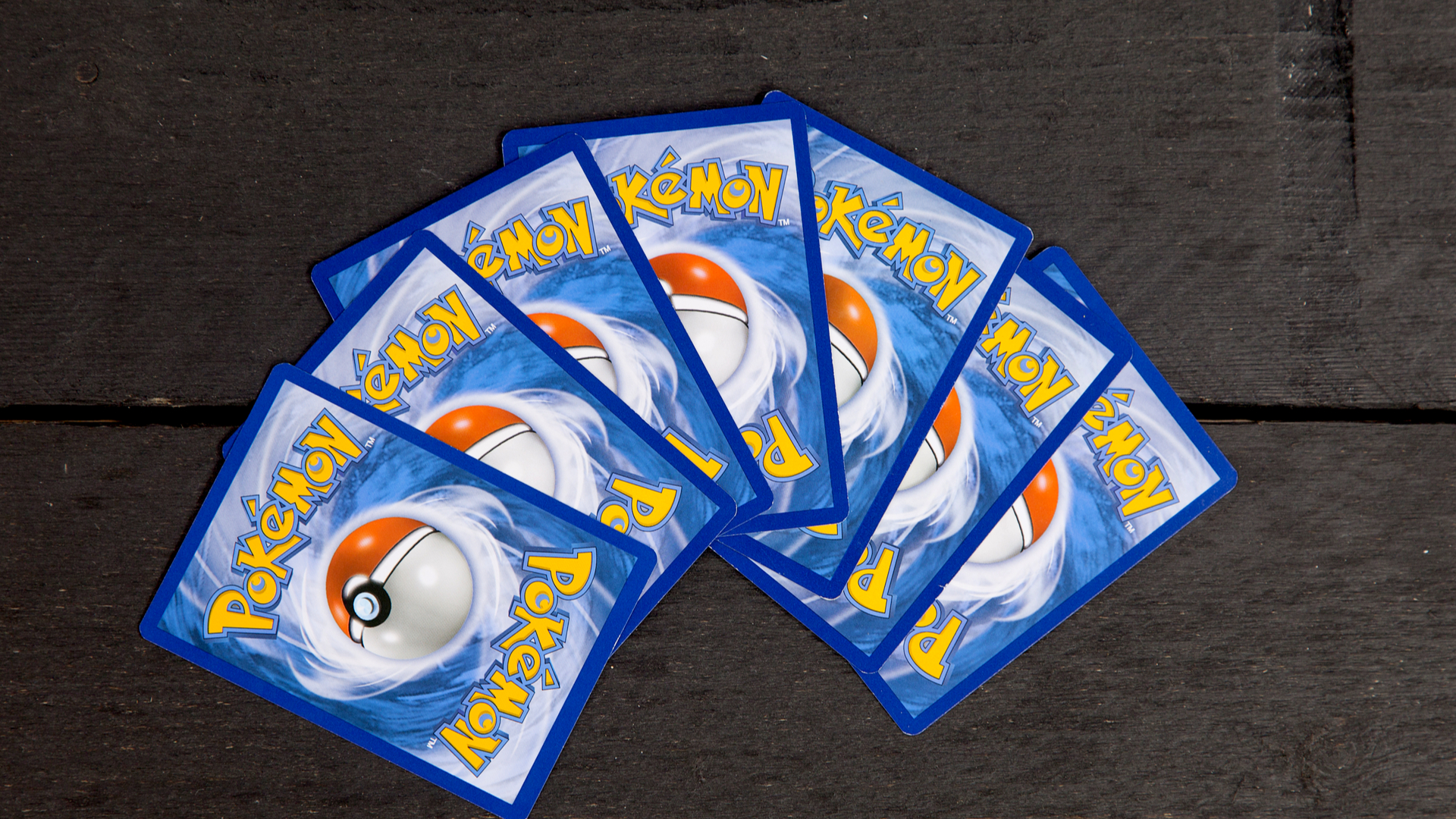 Exotic investments explored: trading cards
Posted on: 3rd June 2021 in Investments
Exotic investments, those that break away from traditional assets, have been on the rise in recent years. 
From NFTs to classic cars, investors are turning collectables into cash – serious cash. And the latest must-have asset for investors? Trading cards. 
Those 2.5 x 3.5-inch pieces of cards that you may have collected as a child could be worth a small fortune.
Trading cards are currently trading hands for seven-figure sums of money in some cases.
So, should you dig out your old trading cards or consider building a new collection? Read on to find out as we delve into the nostalgic trend that has got investors talking.
Sector growth
When it comes to buying and selling trading cards, eBay is one of the top destinations. Because of this, their 2021 State of Trading Cards report gives us a good overview of the sector.
Data collected by the online marketplace paints a picture of a sector that has seen massive growth during the pandemic.
Sales of trading cards increased by 142% in 2020. During a year where most people were confined to their home, more than four million more trading cards were sold compared to 2019.
Pokémon cards saw a huge increase in sales, increasing by 574% from 2019 to 2020.
We know trading cards are selling, but it's your return on investment that matters as an investor. When we look at their value, it's clear why these collectable cards are highly sought after as an asset.
Record values
In the late 90s and early 2000s, Pokémon cards were the big craze. Fast forward to today, and in some way, not much has changed. Although in reality, a lot has changed.
What was once the must-have collectable for children everywhere is now the must-have asset for investors. Something that you could buy with your pocket money will now cost you significantly more.
Anyone who remembers collecting the cards will also remember the highly coveted Charizard card.
Back then, owning the shiny card would have made you the envy of everyone at school. Owning one now could buy you a house.
In 2020, an ultra-rare, mint condition Charizard sold for $350,100. The seller bought the card in 2009 for $700. That is an increase in value of nearly 50,000% in just over a decade.
If you thought cards featuring made-up monsters demanded a high price, think again. Rare sport trading cards have been selling for eye-watering sums of money.
In April 2021, a Tom Brady rookie card sold for just over $2.25 million, a record sale for an NFL trading card.
Just weeks later, an ultra-rare rookie card of NBA megastar LeBron James sold for $5.2 million. The sale equalled the record amount paid for a sports trading card. In January 2021, a buyer paid the same amount for a rare baseball card.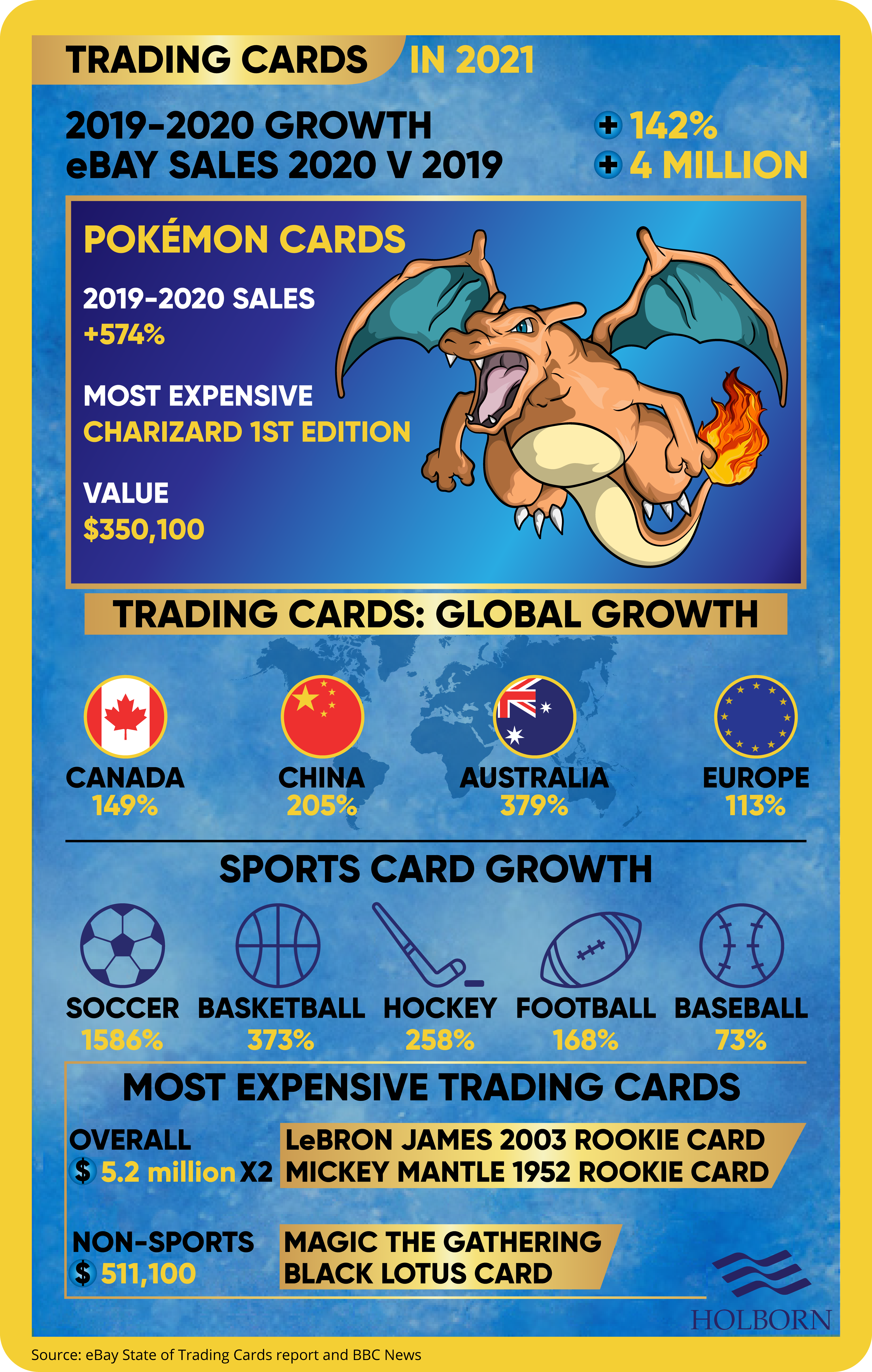 The reason why trading cards are selling for such vast sums of money could be pretty straightforward – supply and demand.
Right now, these collector's items are in high demand, but the supply is limited. There may only be 100 or so of a particular card in the world. Add the state of the card into the mix, and finding one in mint condition reduces that number further.
The question is, why has demand soared as of late? 
The lockdown effect
In an article earlier this year, Forbes described the current Pokémon card craze as the pandemic's equivalent of a gold rush.
If we look at recent sales, everything points towards the pandemic impacting demand for trading cards. Nearly all of the record-breaking sales have come during the lockdown.
Overall sales also began to increase right around the time when countries began lockdown measures. An article published by Sports Collectors Daily revealed a surge in sales in sports trading cards.
The sports memorabilia experts reported that from March-May 2020, sports card sales on eBay were 92% higher than during the last three months of 2019.
It's hard to say precisely why the pandemic seems to have reignited people's love of trading cards. If the pandemic played a part in the recent boom, is this all a bubble waiting to burst?
Waves or bubbles?
The recent spike in interest for trading cards seems tied to the pandemic. 
However, to say the market is a bubble waiting to burst may be the wrong analogy. Instead, thinking of trading cards as a wave rather than a bubble may be more accurate.
Interest may fall, but an event can be the catalyst to create a new wave of interest. This is what makes exotic investments so unique.
For example, when a sporting legend dies, the demand for memorabilia tied to them tends to soar. Recently, rare Kobe Bryant cards have sold for over $500,000.
As with most alternative assets, value, interest and demand can come in waves. In terms of their current values, rare trading cards are still likely to demand a high price among collectors.
It's important to remember that exotic investments are very different in nature to traditional assets. Whether it's rare art or trading cards, most investors are also collectors with a passion or interest in the asset. 
With trading cards, there is a limited number of any one card. Those collectors may not be willing to sell, which limits the number in circulation available for purchase. Again, this comes back to supply and demand.
Anyone (providing you have the money) can buy stocks in Apple. Not everyone can buy a rare Michael Jordan rookie card. When one does enter the market, bidders have a rare chance to purchase an asset that is usually unavailable.
Having a successful strategy
Exotic investments such as trading cards are netting investors and collectors willing to sell, massive returns in some cases.
Just like any investment, it's essential to understand the market thoroughly first.
Whether you are into trading cards or trading stocks, speaking to an expert is the best way to ensure you have a successful investment strategy in place.
At Holborn, we have been working with clients for more than two decades to achieve their financial goals through investing.
To find out how we can help you, contact us using the form below.