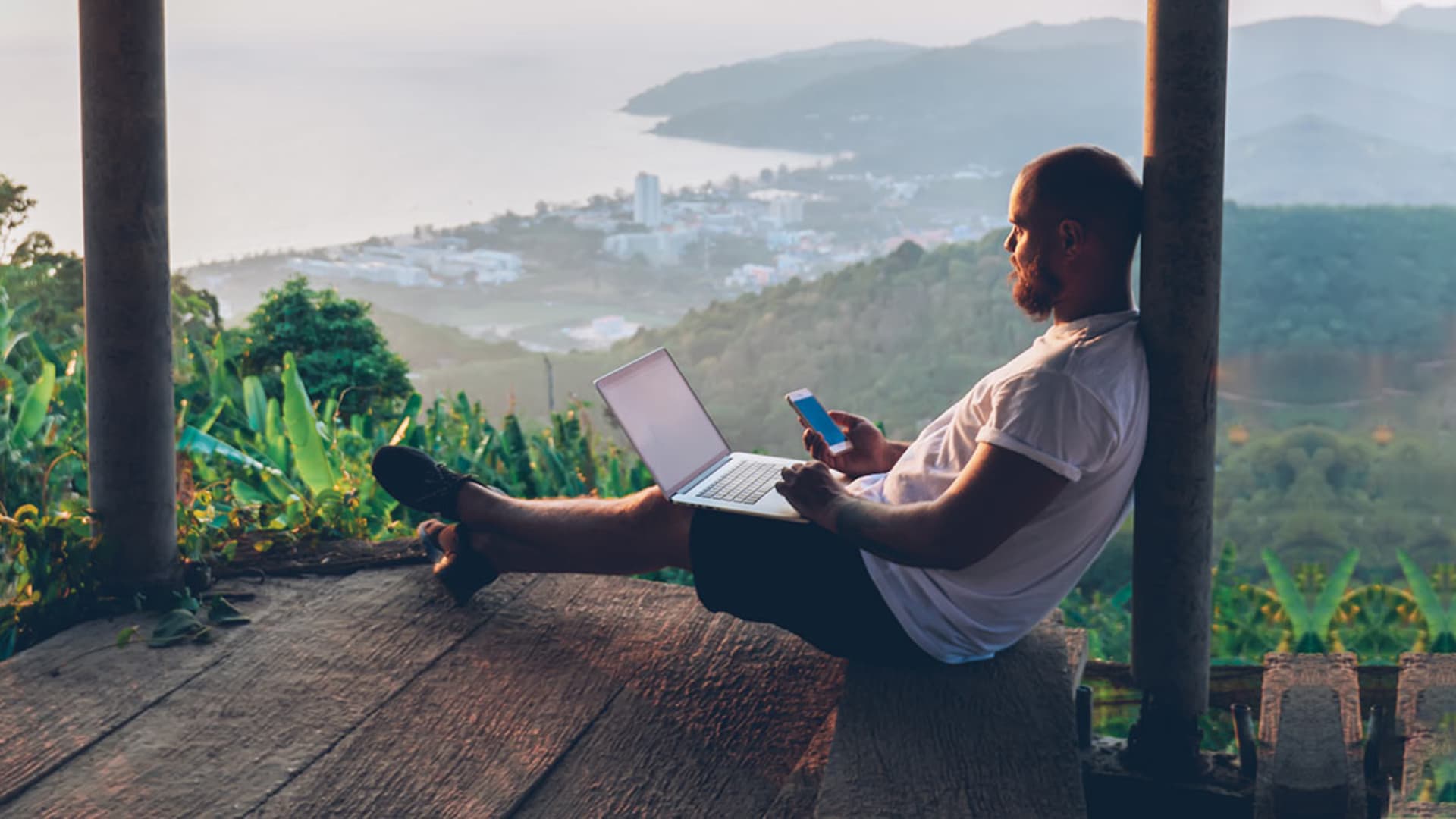 Remote working? These are the top destinations!
Posted on: 13th October 2022 in Expats
Remote working has become a trend since the pandemic swept the world in 2020. Restrictions imposed by governments around the globe reduced the coronavirus's effect but also changed many of our habits. Staying at home meant we needed more space as we couldn't go to the office anymore. Renting larger homes in suburbs or villages became another trend whilst some people took the opportunity to return to their families or move to other countries, benefitting from remote working.
Remote working is here to stay – especially for individuals who want to live in other countries with a cheaper cost of living. A few days ago, Savills published its Executive Nomad Index ranking 15 destinations for long-term remote workers. In this blog, you will have the opportunity to learn more about some of those destinations and broaden your horizons regarding remote working. 
Which countries are on the Savills Executive Nomad Index?
The infographic below shows the top 15 locations for remote workers according to the Savills Executive Nomad Index. All of them either have a digital nomad visa programme or something comparable or, in the case of the United States and European countries, they are already members of a huge economic bloc that enables the free movement of individuals for the purpose of working or living there.
They have established premium residential markets, pleasant weather throughout the year, and high standards of living, and they offer a high level of living.
Lisbon – the best place for remote workers
Portugal has two locations in Savills' Executive Nomad Index. Portugal's capital city, Lisbon, ranked first, with the Algarve region in the southern part coming in at fourth place. Portugal joined the European Union (EU) on January 1st 1986. The Portuguese economy is on the rise, ranking 48 among the major economies according to data published by the World Bank. The country is a popular destination for tourists and expats who want to live and work in a Mediterranean country. More than 500,000 foreigners have chosen to move to Portugal.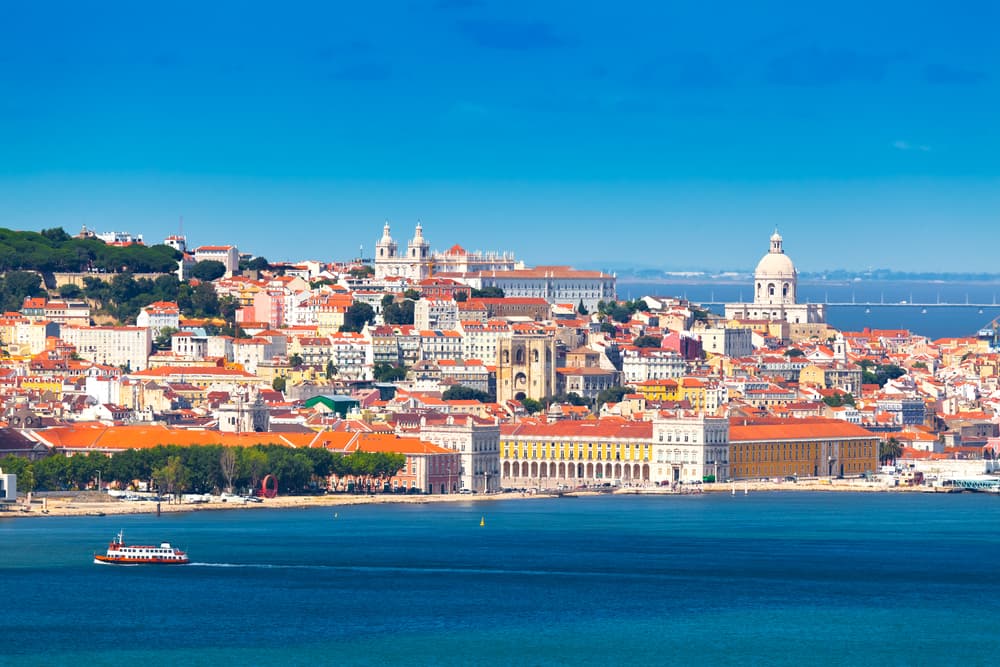 Lisbon is a beautiful city located in the centre of the country, on the Atlantic coast. Lisbon is just a two and a half hour's flight to London and an eight-hour flight from New York. Being close to these two important business centres makes it ideal for people who work in the international market but don't want to suffer the stress and anxiety of living in such a big city. The cost of living is another important factor that plays a significant role in a remote worker's decision to relocate; Lisbon is a good option, as living there is much cheaper compared to cities such as Paris, Berlin or London. 
The Algarve joins the final 4
The Algarve is a popular destination for expats coming from the north of Europe. Lagos, Faro and Albufeira are cities you might have bumped into while reading a tourist brochure. Pristine beaches such as Praia da Marinha and Praia do Barril look like they came out of a fairy tale. Portugal's Foreigners and Borders Service (SEF) has revealed that 42,071 Brits became Portuguese residents in 2021, with the group becoming the second largest after Brazilians. 
People who wanted to live and work in Portugal had been applying for the popular D7 visa. Portugal's D7 Visa is known as the Passive Income visa, as holders only had to prove that they had sufficient income to support themselves when living in the country. Therefore, the D7 Visa was ideal for retirees.
The Portuguese Digital Nomad Visa scheme is ready
The Portuguese government has vowed to make things even easier for remote workers and particularly digital nomads. Starting on October 30th 2022, digital nomads will be able to apply for the Portuguese Digital Nomad Visa. Remote workers have the option of applying for either a temporary stay visa valid for a maximum of one year or a residency permit that can be renewed for a maximum of five years. However, it should be noted that your income should be around $2,750 per month. Applicants must submit tax residency documents and a contract of employment or prove that they are self-employed.
Investing in a Portuguese Golden Visa
For people who have the necessary funds and want to obtain a Portuguese passport, the solution is the Portuguese golden visa programme. The scheme offers a variety of investment options, with the property investment one being one of the most attractive in the EU. Investing in a Portuguese golden visa is the ideal solution for people who want to own an EU passport whilst investing in one of the rising economies in the bloc. For more information regarding the Portuguese golden visa scheme, please get in touch with our fully qualified experts.
Dubai comes in third
It's no wonder that Dubai is one of the top destinations for remote workers. Being a business hub between Europe, Asia and Africa, Dubai is a city that has taken the opportunity to match the dynamic of London and New York in the last 20 years. The United Arab Emirates government has launched a massive infrastructure programme called "Dubai 2040 Master Plan" that will make the city stand out from the competition.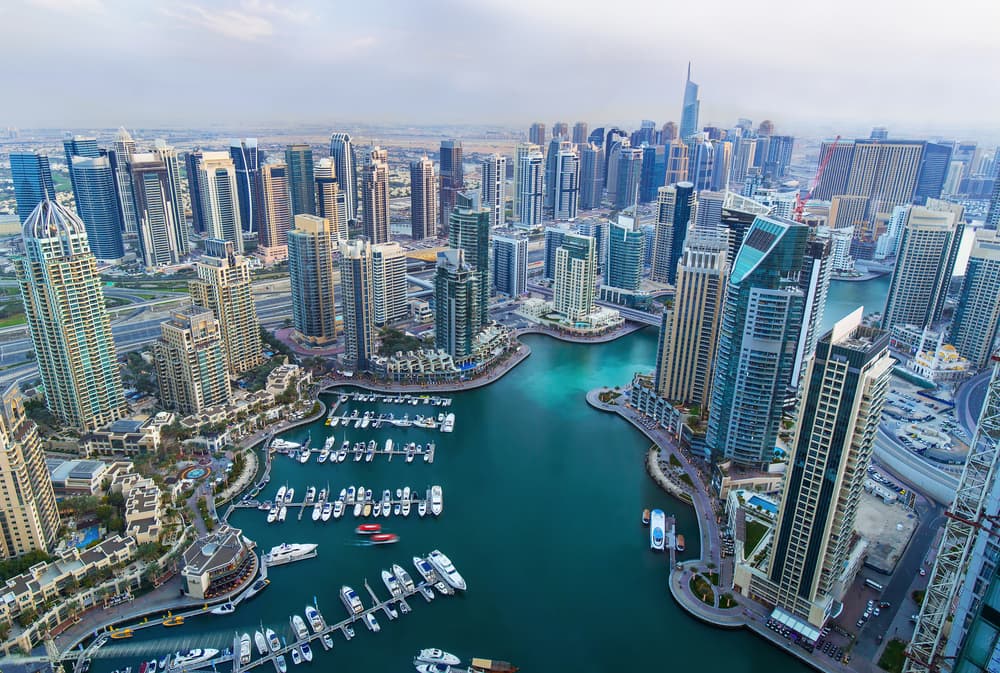 Dubai has introduced a fairly simple procedure that enables anybody from any nation to apply for a one-year remote work visa. This programme allows people to work remotely in Dubai. The scheme is officially known as the Remote Working Visa Scheme. It was initially announced in the first quarter of 2021 and has only recently begun. The programme makes it possible for anyone who meets the requirements to relocate to Dubai and work remotely.
Becoming a remote worker in Dubai means that you will enjoy the perks of living in one of the most advanced cities in the world. However, moving to the UAE requires careful financial planning as some things, such as insurance, for example, may not be as cheap as you think. Holborn was established in Dubai over 20 years ago, so we have the knowledge to make your move as smooth as possible, thanks to our fully qualified advisers.
Number 5: Barcelona
You know Barcelona from its excellent football team, Sagrada Famiglia, La Rambla and Barceloneta. Barcelona is the second city after Madrid and a popular destination for tourists from around the world. What you didn't know about Barcelona is that it's one of the top remote work destinations in Europe. 
Spain has earned a reputation as one of the top countries in Western Europe among members of the community of people who work remotely. It is an incredible destination for digital nomads and other remote workers because of the lifestyle, as well as the food, the people and the weather. The cost of living is a big selling point for Spain. Compared to the European nations you might have travelled through, you will find that your money will go a lot further in Spain.
Is there a Spanish digital nomad visa?
Currently, there is no specific visa for digital nomads in Spain. In 2021, the government of Spain passed a law with the intention of encouraging the development of a prosperous environment for new business ventures. The purpose of this piece of law, which is also known as the "Startups Law", is to turn Spain into a destination for cutting-edge startups, leading talent, and investment. Media reports suggest that Spain will soon join the club of 15 EU countries with dedicated remote worker visas, allowing you to make your dreams come true.
Consider investing in a Spanish Golden Visa
However, if you have the necessary funds, you can take advantage of Spain's golden visa programme, which offers a range of options to investors. A Spanish golden visa allows you to live and work in the beautiful Iberian country, whilst investing in property may be an excellent way to diversify your portfolio. As Holborn has the expertise to help you invest in a Spanish golden visa, make sure you get in touch with our qualified advisers today.
Is Saint Lucia a suitable destination for remote workers?
According to the Savills' Executive Nomad Index, the answer is yes. St. Lucia is a tropical island nation that can be found on the eastern side of the Caribbean Sea. It is the second largest of the Windward group of islands and is considered to be a part of the Lesser Antilles.
Marigot Bay, widely regarded as one of the Caribbean's most gorgeous locations, can be found on this island. A resort that has won numerous awards, Marigot Bay is a five-star establishment that features luxurious accommodations, upscale dining, and spa services. The port in Marigot Bay is large enough to host some of the world's most expensive superyachts.
Meet the Caribbean Live and Work Anywhere programme
The Caribbean Tourism Organization (CTO) has formed a partnership with Airbnb in order to launch the "Live and Work Anywhere" campaign. This initiative intends to promote the Caribbean countries to digital nomads looking for a sunny location to work remotely.
This program allows visitors to embrace the island with a 12-month multiple-entry visa. There are no minimum income requirements for applicants, but when submitting your application, you will have to write down the amount of money you bring with you. The programme has not been advertised, so we will help you by sharing the St Lucia non-immigrant visa application noting that you should email it to this address: [email protected] 
Invest in Saint Lucia's citizenship by investment programme
Saint Lucia has a very popular citizenship-by-investment programme that allows you to obtain a St Lucia passport with an investment of just $100,000 in the country's National Economic Fund. Becoming a St Lucia citizen enables you to travel visa-free to 144 countries, including the UK, all of Europe, Hong Kong, and Singapore. If you would like to learn more about Saint Lucia's citizenship by programme, get in touch with our experts today. 
Antigua & Barbuda: a majestic destination for remote workers
Antigua and Barbuda are two large islands that are grouped together as part of the Leeward Islands. Barbuda is located around 40 kilometres (25 miles) north of Antigua.
Antigua is home to approximately 97% of the country's permanent population, the vast majority of whom make their home in St. Johns, the nation's capital. There are numerous beaches on Barbuda, all of which are protected by barrier reefs. A continuous stretch of beach spans 10 miles across the southern part of the island.
Antigua & Barbuda NDR Visa
Antigua offers remote workers its Antigua Nomad Digital Residency programme, also known as NDR visa. If you would like your application to be successful, you will have to declare that your income will be approximately $50,000 for each of the next two years. An individual application costs $1,500, whilst a couple can submit an application for $2,000. 
Is Antigua & Barbuda's citizenship by investment programme a good option?
As the minimum income requirements are high, the Antigua & Barbuda citizenship by investment programme may be a good option for remote workers. A contribution to the country's National Development Fund of a minimum non-refundable amount of $100,000 will make you a passport holder. The passport enables you to travel visa-free to Hong Kong, Singapore, the UK, and Europe's Schengen Area. If you would like to learn more about the Antigua & Barbuda citizenship scheme, please don't hesitate to contact our fully qualified experts.  
Remote working? Holborn offers unique financial planning solutions
Remote working is an option offered by many employers nowadays. Some workers prefer to work remotely as it allows them to choose where they would like to live and be close to their loved ones. There is no doubt that remote working is here to stay. However, the new way of working requires thorough financial planning.
Taxes, insurance and retirement planning are just some of the problems that you have to solve if you decide to work remotely. If you believe that you don't have the necessary knowledge to do that, Holborn's financial advisers are on hand to help you every step of the way. Holborn is the ideal solution to your problems with over 20 years of experience in the financial services industry. Visit one of our 18 offices around the world and start building a financial plan with our fully qualified financial advisers.