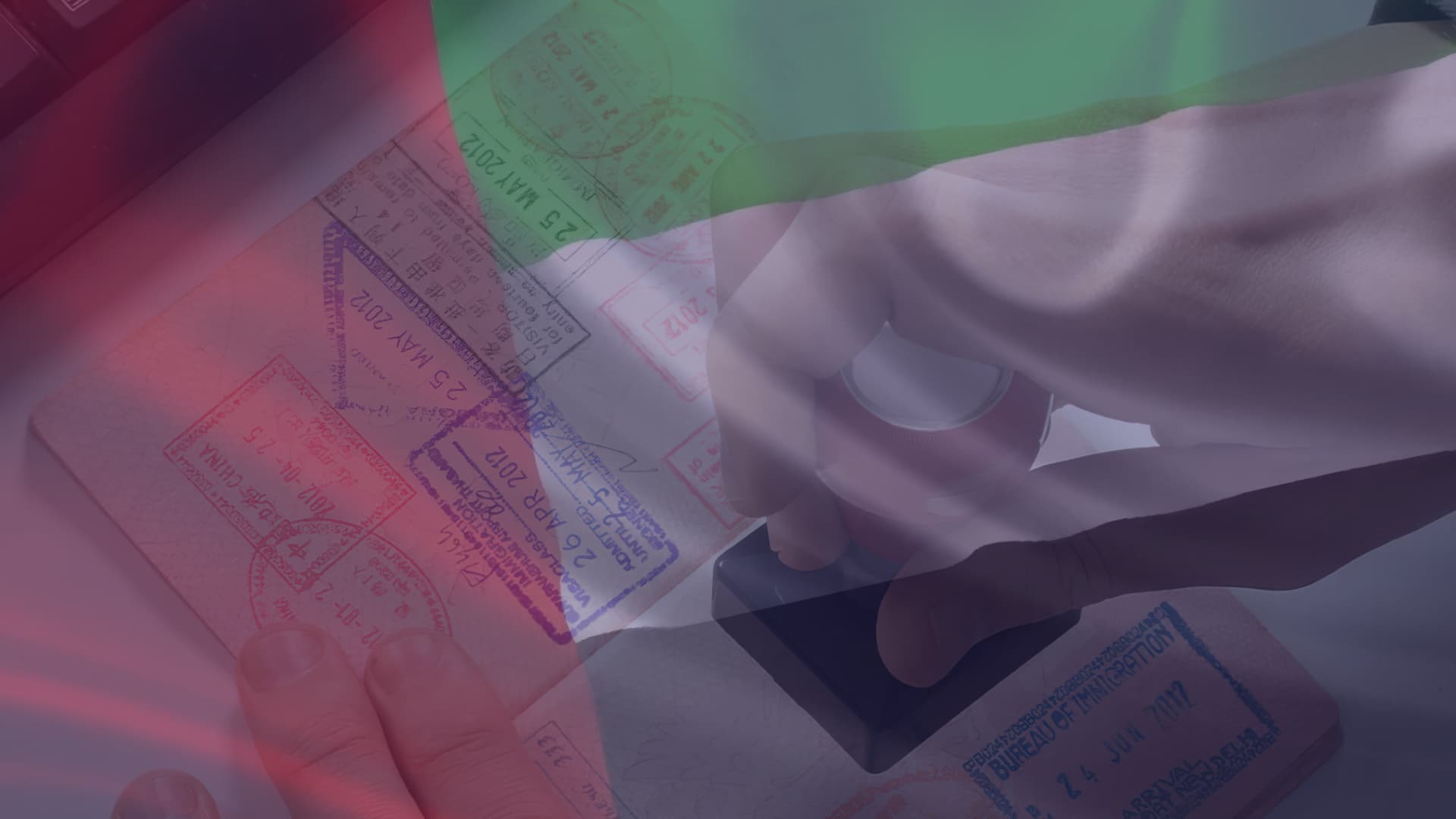 Residence Visas in the UAE
Posted on: 21st January 2022 in Residency & Citizenship
The United Arab Emirates is a country that offers many job opportunities to expats who want to know more about residence visas. Eight out of ten UAE residents are expats of 200 nationalities that work in one of the wealthiest countries in the Middle East region. Our blog aims to help you identify which residence visa is in line with your plan to move to the UAE.
Who is eligible for the UAE Golden Visa?
According to the government website, UAE authorities implemented a new long-term residence visa system that allows foreigners to live, work and study in the country without a national sponsor.
The visas are issued for 5 or 10 years and are renewed automatically. The UAE Organization of Residence Permits can issue visas for investors, entrepreneurs, specialised talents and researchers as well as students with "promising scientific capabilities."
10-year Visa eligibility
For people who aim to invest more than AED 10 mln, the Golden Visa requirements can be found below: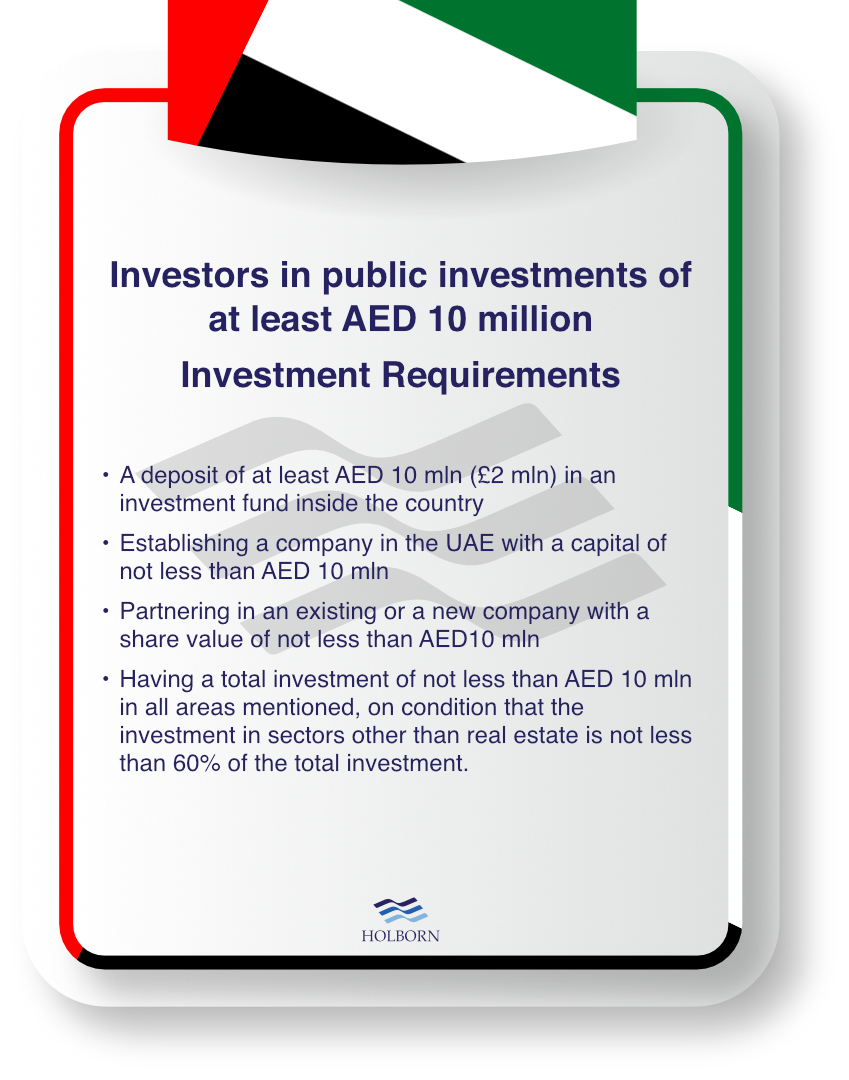 Persons with exceptional talents and researchers in the field of science such as doctors, specialists, scientists, inventors, as well as creative individuals in the field of culture and art can apply for a Golden Visa in the UAE. The requirements can be found in the graph below: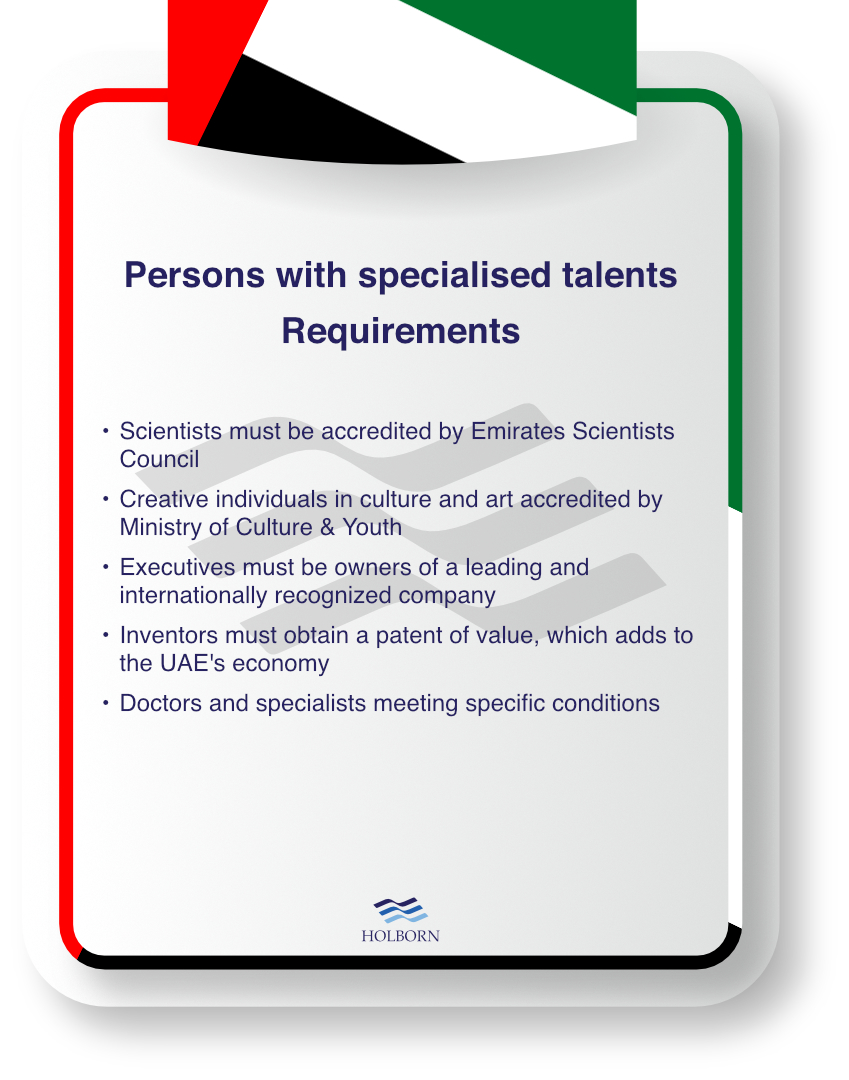 5-year Visa eligibility
Real estate investors in the UAE are entitled to apply for a 5-year residence visa. However, as with most golden visas, there are specific requirements that you can see in our graph below: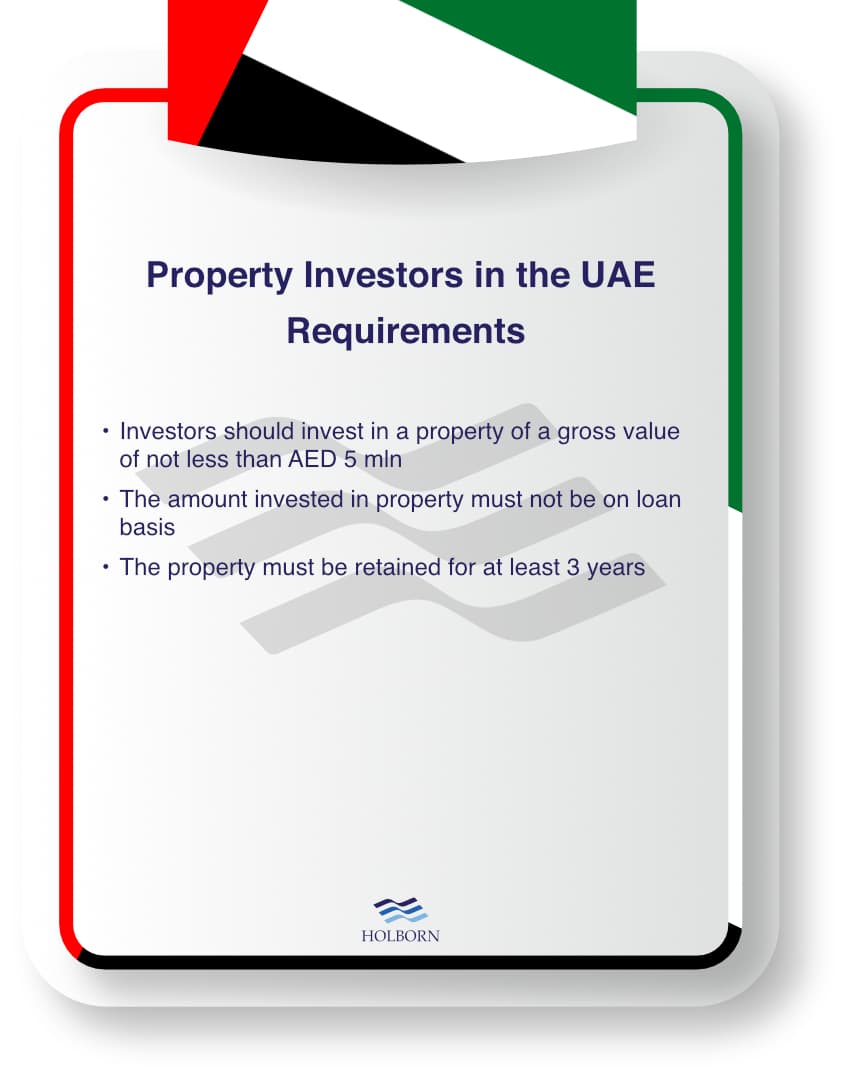 Entrepreneurs and outstanding students have the right to apply for a 5-year residence visa. If you would like to learn more please click on this link.
UAE Retirement Visa
If you are over 55 years old, the UAE immigration system gives you the opportunity to apply for a 5-year residency visa, if you fulfil some criteria. UAE has one of the best public healthcare systems in the world, offering a high standard of medical care that will allow you to enjoy your retirement stress-free.
Retirees will have the chance to enjoy the warm sea waters or play golf in the famous resorts in the region. All you have to do is secure a health insurance package from a local provider in advance and start your application. You can review the rest of the requirements below: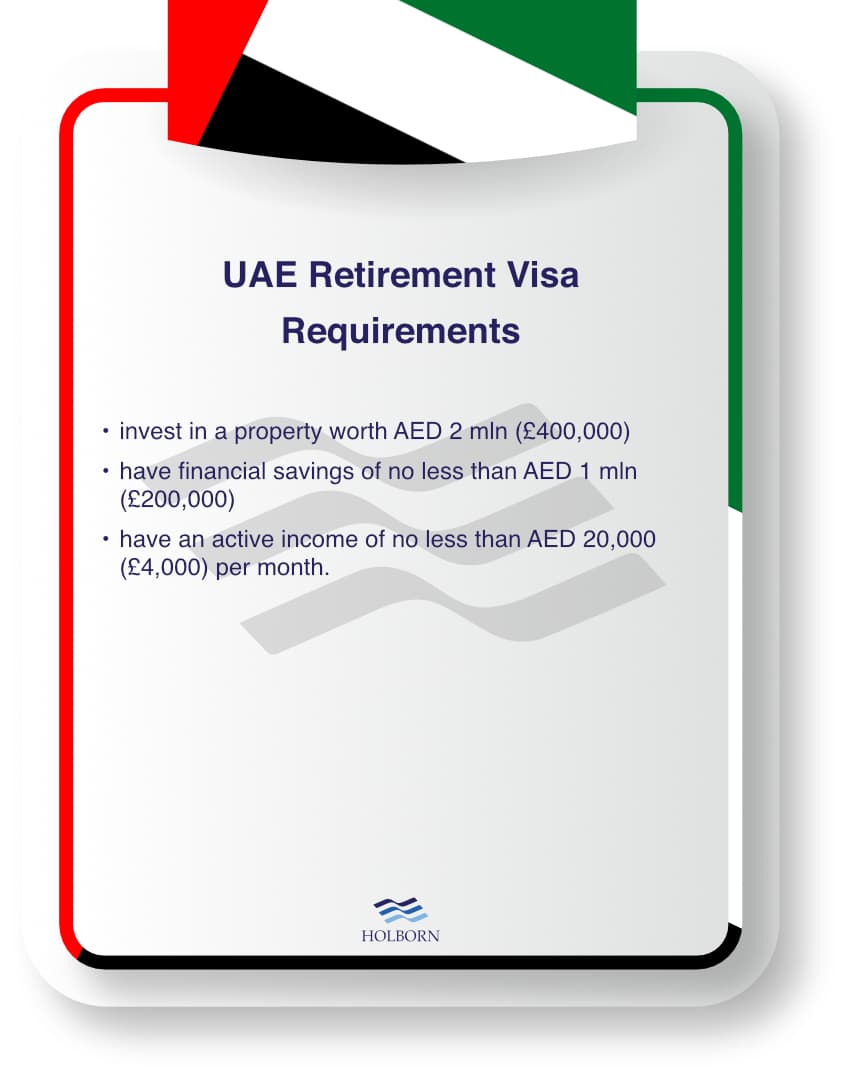 UAE Green Visa
The word "Green" has nothing to do with saving the environment. The UAE Green Visa offers great opportunities to overseas workers to start their businesses at lower costs and without local sponsorship and partnership.
Green Visa holders can also sponsor their parents and children up to 25 years, thus solving some family planning issues. The UAE government announced the Green Visa as part of a larger set of reforms aiming at keeping highly qualified personnel in the country. More details are to be announced by the country's authorities, so stay tuned if you would like to become a Green Visa holder as this type of visa may be the one that you need to start your new life abroad.
Dubai Remote Working Visa
Dubai authorities have recognised that the consequences of the pandemic have changed the way we work, bringing to the forefront the need for a remote working visa. This type of visa enables employees from all over the world to work remotely from the UAE for a year. Successful applicants can bring their families with them to the country and have the right to re-apply after 365 days. Visa fees are $287 per person.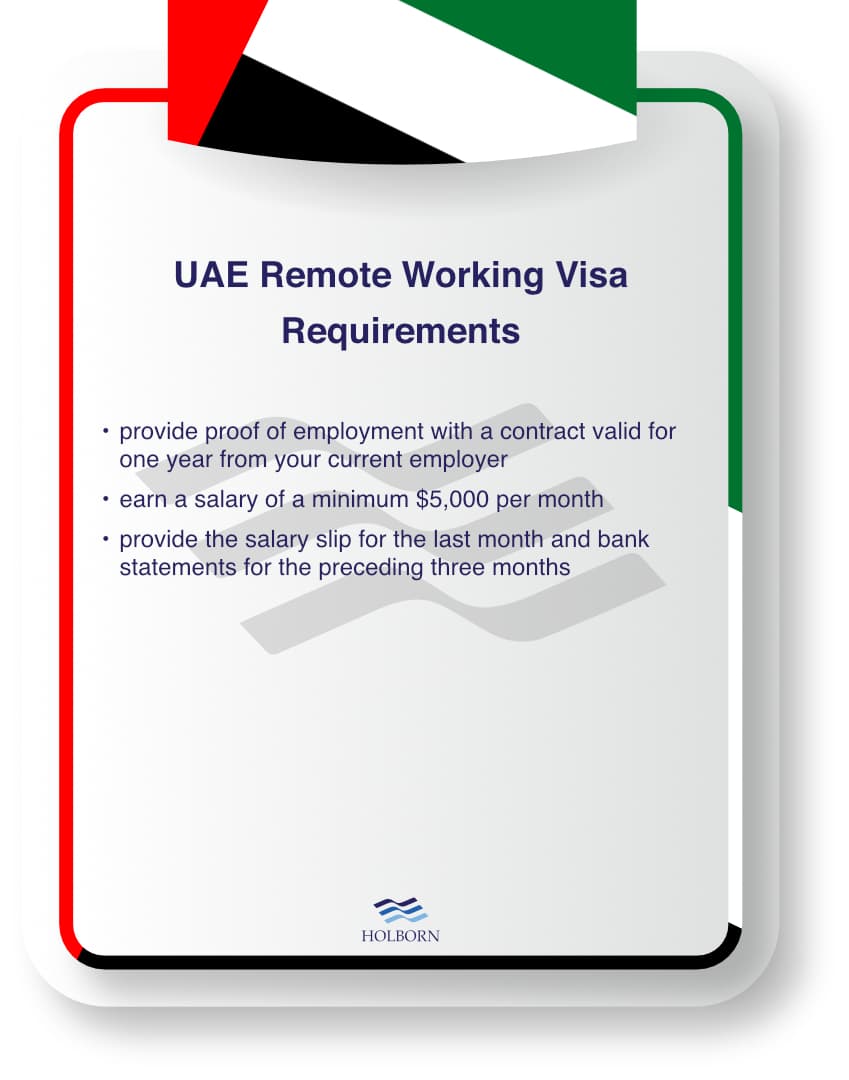 Holborn helps you start your new life in the UAE
If you would like to set up your business in the UAE or change your style of life by moving to Dubai or Abu Dhabi, there are many available residence visas options. Holborn would be the best to give you a helping hand as we have our headquarters in the UAE for more than 20 years. Holborn was established in Dubai in 1998 and has grown to be one of the best financial advisory firms in the Gulf region.
Our fully qualified advisers have the necessary knowledge and experience to offer you innovative solutions that will save money and time as you move to a new, and maybe unknown to you, country. Whether it is about educational planning and choosing a school, setting up companies or making an investment, Holborn will be with you every step of the way. Get in touch with Holborn today and start living the life you want.