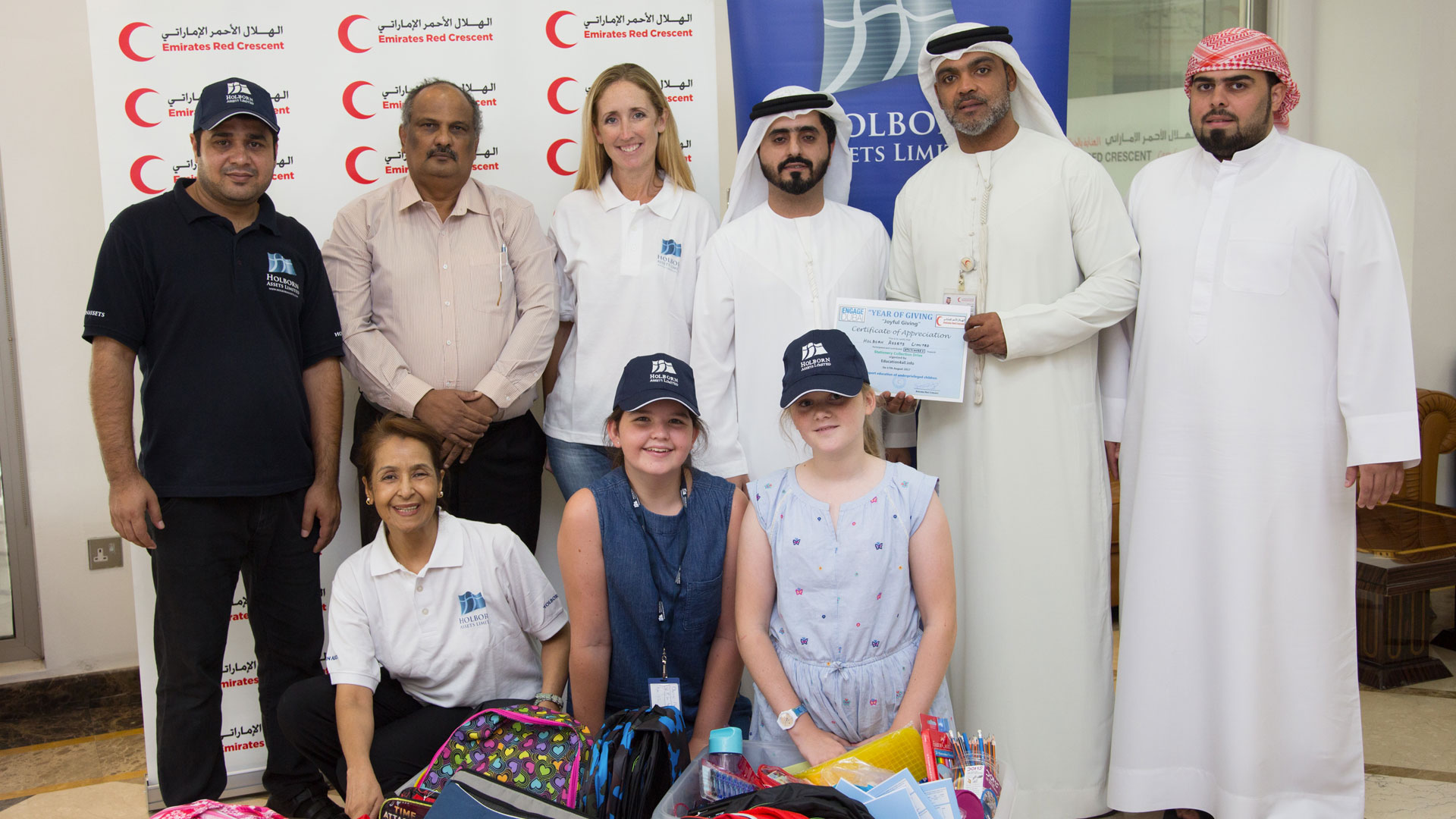 We've joined forces with Emirates Red Crescent in an effort to provide education and school supplies for Syrian and Yemeni refugee children. In September 2017, Holborn Assets sourced and funded hundreds of notepads, pens, pencils, art kits, calculators, school bags and more to provide children in Dubai, and those currently living within refugee settlements, with a range of academic equipment.
The initiative was started by Dubai-based Venkatraman Krishnamoorthy of Tamil Nadu, India, who collected a record-breaking 10,000+ kg of stationery for refugee children around the world.
This collection was undertaken under the umbrella of Emirates Red Crescent – license No 581 of Islamic Affairs & Charitable Activities Department.
Employees at Holborn further boosted this effort by taking part in various sports challenges as they look to secure sponsorship and raise funds to send a number of refugee children to school in the UAE.
The teams have tackled events such as Desert Warrior Challenge, Dragon Boat Festival, Tough Mudder, Dubai Colour Run, Dubai 92 Cycle Race, Dubai Marathon and Dubai 10k all in the name of fundraising.
CEO of Holborn Assets, Bob Parker, said: "As announced by Sheikh Khalifa bin Zayed Al Nahyan, 2017 is the UAE's Year of Giving and our team is very excited to be involved in supporting such a worthy and timely cause.
Holborn Assets is committed to expanding its community work in addition to raising awareness about the Red Crescent's wider goals – we also encouraged our clients and the public to drop off any school supplies directly to our office!
Further to education essentials, a number of our financial advisers will soon be putting their sporting abilities to the test in efforts to raise cash donations for Red Crescent's extensive educational and humanitarian efforts. In the upcoming months, Holborn Assets will be championing a range of voluntary activities for these great causes in what promises to be a record-breaking year of charitable donations from the business as we look to support causes in the UAE and across the world and shall be sharing more news here very shortly!"