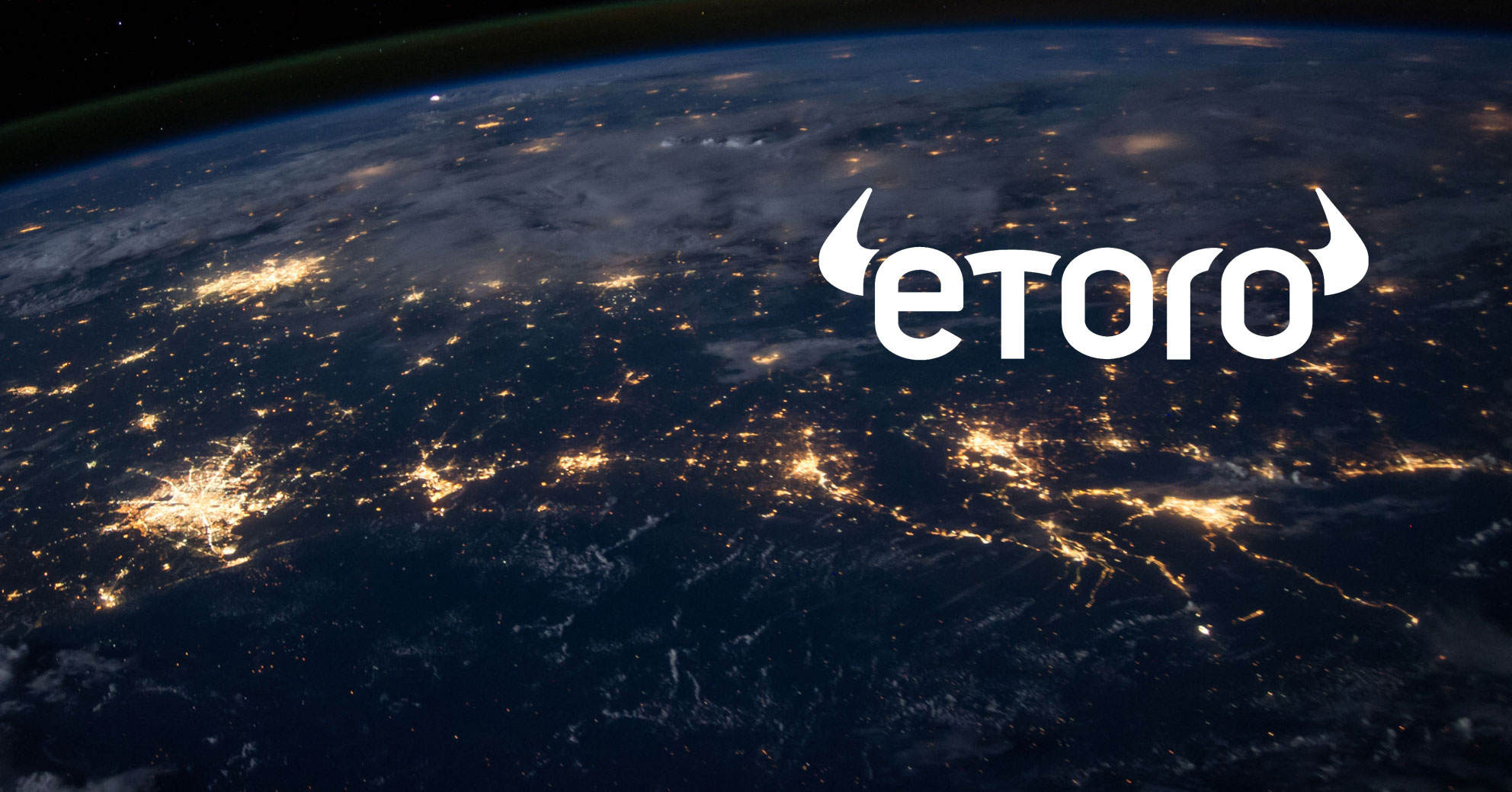 How does Etoro online trading work?
Posted on: 26th June 2018 in Investments
What is Etoro?
Etoro is an online broker and investment platform with over 6m users. Etoro allows you to get involved in real-time in Forex, Cryptocurrencies, Stocks, Indices, Commodities and ETFs. You can make long-term investments as well as day-trade.
What type of online broker is Etoro?
There are many types of online broker/investment platform. "Some online stock brokers are known for their award-winning customer service while others are known for inexpensive stock trades or powerful trading tools." Etoro is known for its ease of use as well as its powerful support for "social trading".
How is Etoro easy to use?
Sign-up is quick and getting around the onscreen interface feels very natural. Everything you could want to see is available on your portfolio screen, which you can choose to see in table form (as below) or in chart view (not shown):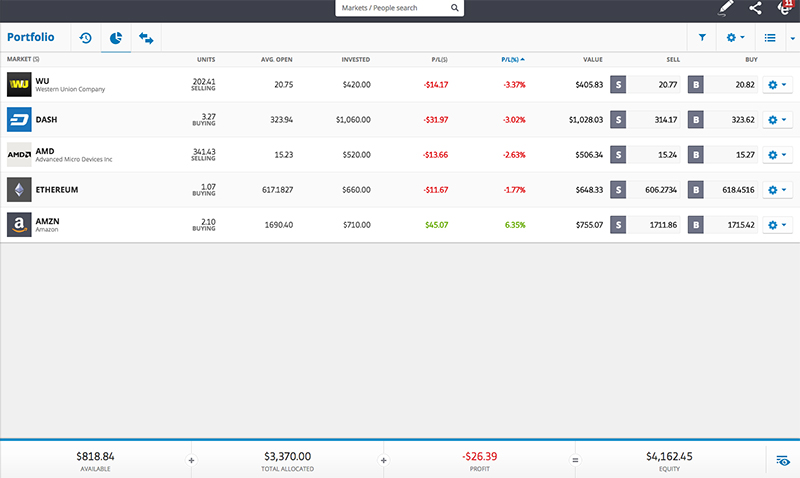 You can also switch to Account view, which shows you your trading history up to a couple of seconds ago: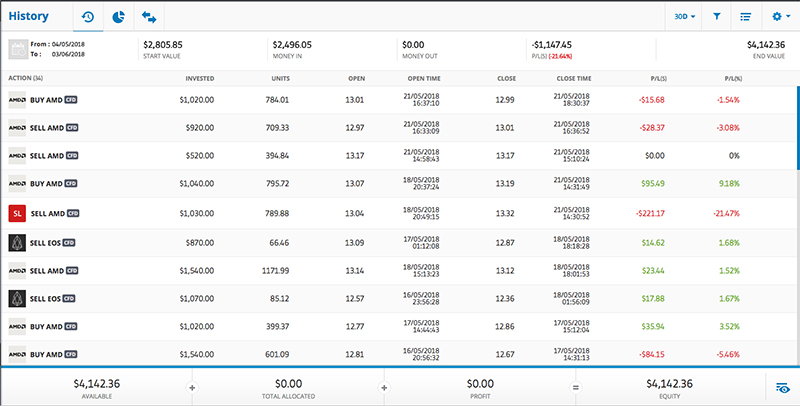 What is "social trading"?
Along with smaller competitors such as 
Zulutrade
&
ayondo
, Etoro specialises in "social trading". Social trading means
really
social. Users share strategies and news on their own customisable newsfeed, just like on Facebook: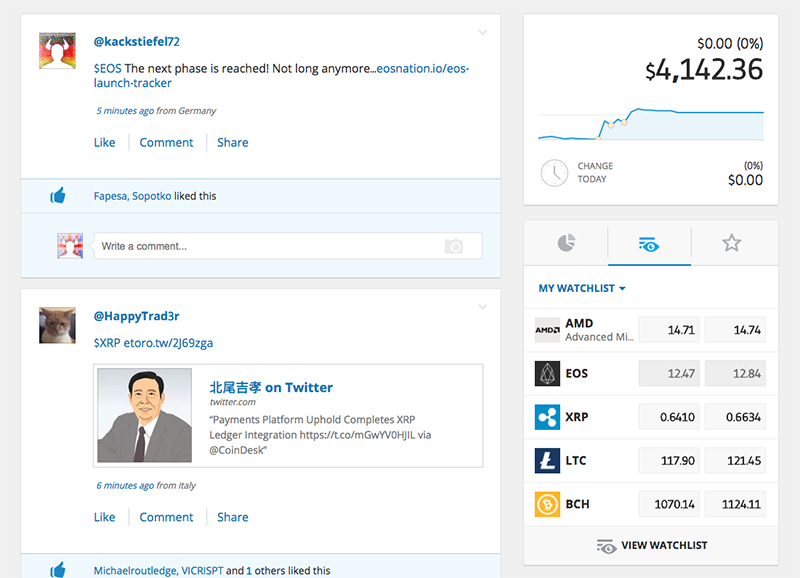 Etoro users can also have their funds set up to automatically copy fellow traders online – using Etoro Copytrader.
(TM)
What is Etoro's "Copytrader"(TM)?
Etoro sees Copytrader
(TM) 
as the centrepiece of its social trading. You can choose to copy exactly the trades of a fellow trader – having reviewed their performance just like you would if you were selecting an active fund manager. But, in this case, you get to act on advice for free! You can filter potential candidates with a range of options: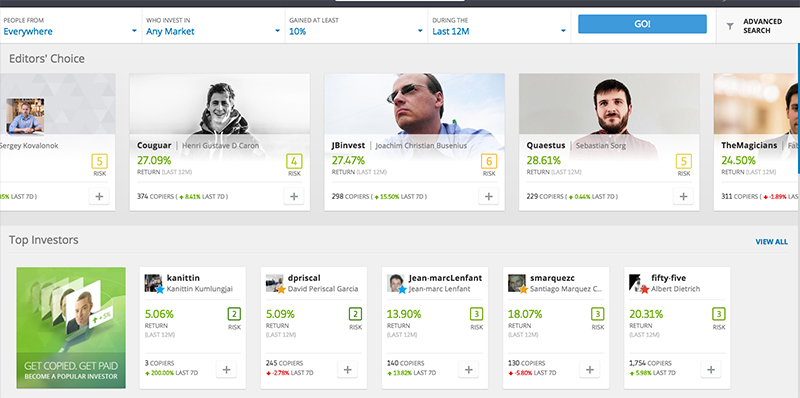 The copied trader doesn't profit financially from you copying them. But remember you copy at your own risk! As an elaboration of copying other traders, Etoro offers an added feature called Copyfunds, which are "managed portfolios that bundle Top Traders or various assets under a predetermined market strategy."
Is Etoro safe?
Etoro is trusted by 6m users and is regulated in the UK under the FCA and elsewhere in the world under appropriate authorities.
Can I place stop losses with Etoro?
Users can place stop losses on most transactions. This means that you will be thrown out of a transaction at a point of your choosing – rather than lose more than you can afford to lose. Be warned, though, that Etoro stop losses do NOT necessarily kick in when the price is moving very fast – or during the period between the closing and opening of a market like the NASDAQ, for example, during which time prices often change.
Can I "go short" – ie invest in prices going down?
Yes, you can. Because Etoro uses Contracts For Difference (CFDs), the option exists to bet on the markets falling – just like professional traders do. CFDs mean that you, the Etoro user, do not actually own the underlying stock that you're trading in – but rather have entered into a contract regarding its value.
Can I get leverage?
Etoro no longer offers leverage on cryptocurrencies, but leverage remains available on certain CFDs.
Read more about how leverage works directly from Etoro
. In leveraged positions, Etoro Stop Losses do not – theoretically – allow you to lose more money than you have in your Etoro account – assuming you have set them appropriately AND they work as promised …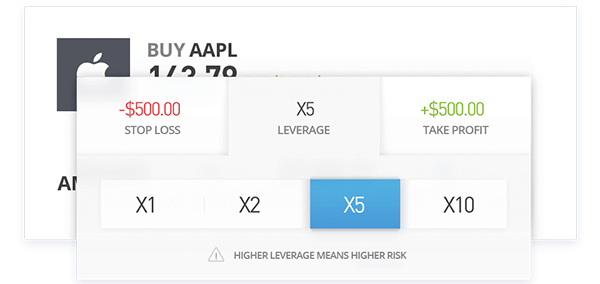 But – and it is a
giant
"But" – just imagine the problems you would face if, for whatever technical reason, you ended up owing 100s times more than you started with! Watch any leveraged positions like a hawk and be 100% aware that leveraging means you can definitely lose your entire stake in SECONDS and, if things went south, a lot more. Etoro have a good reputation for sensible handling of customer issues, but still … don't make it hard on yourself. Don't get into a leveraged mess in the first place.